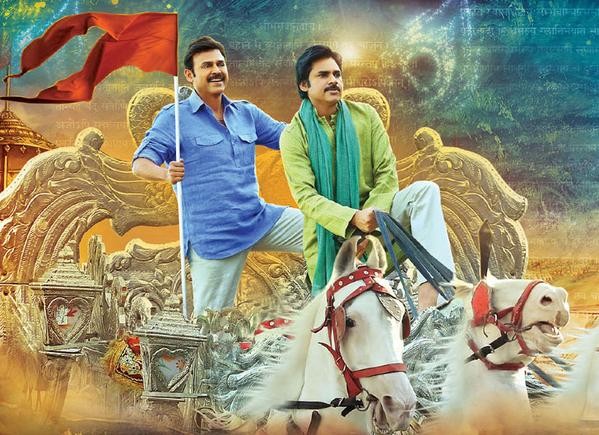 Suresh Productions has released the first song 'Bhaje Bhaje' from the much-awaited movie "Gopala Gopala" as a new year treat to the fans of Power Star Pawan Kalyan and Victory Venkatesh.
On 1 January, the bosses of Suresh Productions announced on its official page that the first song of the film "Gopala Gopala" would be released in the evening. They tweeted, "Get ready for the first song of #GopalaGopala. Releasing #BhajeBhaje song this evening. Gear-up Victorious Power fans."
Later, the makers of "Gopala Gopala" unleashed the song 'Bhaje Bhaje' on Youtube in evening and posted the link on its official Twitter page. Anup Rubens has composed music for the song, while Anantha Sriram wrote lyrics for it. Singer Haricharan Seshadri has rendered his voice for the devotional track. Lahari Music, which has bought the music rights of "Gopala Gopala" has released the song on YouTube.
The 4.01-minute song has been listened by over 1,00,000 people on YouTube in less than 10 hours. It has got around 2,500 thumbs up and 100 thumbs down by the film goers. More than 200 people have commented on the song and all of them have been impressed by the soothing music and beautiful lyrics of the songs.
'Bhaje Bhaje' has also gone viral on the social networking sites like Twitter and Facebook. The song has garnered positive response from the music lovers. Here are some comments of viewers about the track.
Sandesh
#GopalaGopala audio release will be on 4th Jan. Venue wil be finalised tomorrow ☺
Sai Bharath
Awesome music chala bagundee different composition with devotional touch
Vamsi Prakash
Soothing music and nice composition. Looking eagerly for Audio Launch :) ... already 2000 dislikes? Ohhh yeah.... "-1" Fans LOL.... waste fellows.
Nikhil Alluri
Awesome music i think it looks wonderful when we watch it!Superb!
Ravikiran
#GopalaGopala Bhaje Bhaje song Superuuuuuuu .. Repeat listening lo inka baaga ekkesindi .. On screen inthaku minchina feel untadi pakka
Rakesh
#GopalaGopala |Bhaje Bhaaje| Venkatesh #pawankalyan awsme lyrics & grt musicAdv congrts to Lahari 4 successful