Search engine giant Google has launched an innovative tool that will help us reduce the carbon footprint and in the process make the planet earth sustainable for all forms of life.
We, humans, may be the pinnacle of the animal evolution, but we must be considerate of fellow life forms who also call planet Earth their home. Sadly, this thought is lost in most people, who with the personal quest of self-discovery and life problems, tend to overlook things around them. But, we are at a point in time where we can't be ignorant anymore.
Lately, we have seen a series of natural disasters in the form of the heavy rains and storms wrecking havoc and displacing millions of people in Kerala and Kodagu (Karnataka), India.
There is also a heat wave happening in the West, one particular which caught my attention was the US Open 2018, where due to extreme heat caused players to sweat and take a medical time-out for dehydration even during the night.
It can be recalled that this year, for the first time, United States Tennis Association brought in a 10-minute break for men between third and fourth set, so that they can recover from heat exhaustion. Many experts are of the opinion that these are direct results of climate change; earlier, these changes were of subtle in nature, but not anymore.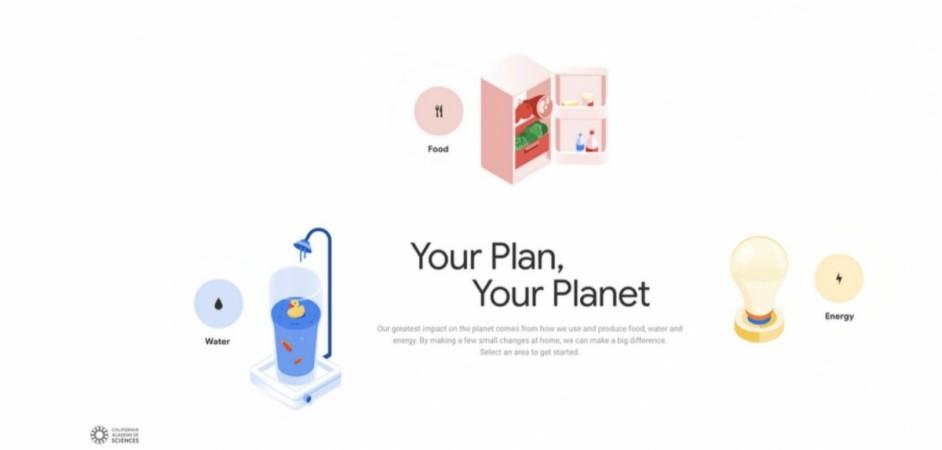 Well, this can be prevented from going to a dangerous level if we start making conscious efforts to control our carbon footprint and make Earth sustain life for several million years, if not a billion more.
In that order, Google in collaboration with California Academy of Sciences has developed a tool—'Your Plan, Your Planet' that claims to enlighten us about environmental impact and learn simple, science-based ways to improve it.
"Food production accounts for more than two-thirds of the world's water use, and over a quarter of CO2 emissions. So when you toss out that bruised tomato or a package of eggs nearing their sell-by date, you're throwing away all of the resources that went into them, too. Your Plan, Your Planet, shows you the water and carbon impact of what you eat and gives you smart ways to store it so that less food ends up in the trash," Jill Puente, Planet Earth Advocate, said on Google blog.
Google has several other themes including water conservation and efficient use of power, most of it comes from the burning of carbon-based coal in thermal electricity plants.
"Sometimes it's the smallest things that make the biggest difference. Your Plan, Your Planet can help you get started," Puente concluded in the blog.
This is a great initiative by Google to make people understand their small steps can make whole of a lot of difference in making the Earth better place for the future generation. More importantly, all of us have to understand that planet Earth is not home to just humans, there are several other forms of life that have an equal stake as well.
I'd like to cap off this article with a beautiful epilogue of David Attenborough in the Planet Earth II episode Cities –
"Every 10 years an area the size of Britain disappears under a jungle of concrete. But it doesn't have to be like this. Could it not be possible to build cities more in harmony with nature? Now, over half of us live in an urban environment, My home, too, is here - in the city of London. Looking down on this great metropolis, the ingenuity with which we continue to reshape the surface of our planet is very striking. But it's also sobering. It reminds me of just how easy it is for us to lose our connection with the natural world. Yet, it's on this connection that the future of both humanity and the natural world will depend. And It's surely our responsibility to do everything in our power to create a planet that provides a home not just for us, but for all life on Earth."
Stay tuned. Follow us @IBTimesIN_Tech on Twitter and on Google News for the latest updates on Google and sustainable living technology.