With the rise of smartphones and digitalisation, there's an app for everything. From communication to entertainment and even dating, you'll find an app to solve your every necessity with a few taps. Now, smartphone users have a reason to rejoice as Google has made one of its most useful and exclusive features available to all Android smartphones.
Google Lens, a feature that gained quite a lot of traction for its usefulness in the day-to-day life of an explorer, is now available as a standalone app on Google Play Store. Previously, the Lens app was a part of Google Assistant and Google Photos and available on select handsets.
As long as you own an Android smartphone that's running Android 6.0 or above, you'll be able to download Google Lens and leverage its unique features. For instance, Google Lens lets you look up a dish from the menu card, get directions, call a number from a placard, translate words, explore popular landmarks, identify plants and animals and much more.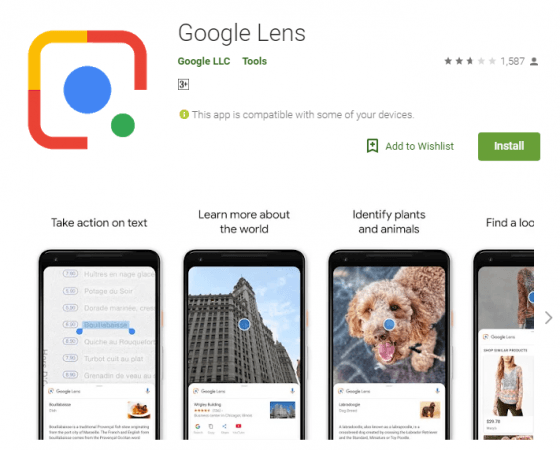 In short, Google Lens is like a search engine for what you see without having to use words to run an internet search.
But the app's availability on Play Store comes with limitations. The Verge reports that the Lens app doesn't work on some handsets like Samsung Galaxy S8 Plus, Moto Z Play, Nokia 7 Plus and Xiaomi Mi A1. It works on other devices such as OnePlus 6, OnePlus 5, Samsung Galaxy Note 8 and Huawei P20 Pro. So the Play Store description that says Android 6.0 or above for the app to work doesn't hold true for all handsets.
Google might change that as it appears to be working out the final kinks. So if you have one of the phones that are shown compatible with the Lens app but doesn't work, there's a good chance it will start working soon.
Google had confirmed at the I/O keynote that the Google Lens was coming to 10 different Android devices, naturally including the Pixel devices. Even though the handsets weren't mentioned, the brands that would eventually get the feature included LG, Motorola, Xiaomi, Sony Mobile, HMD / Nokia, Transsion, TCL, OnePlus, BQ, and Asus.
If users can just be a bit patient, then it's going to be worth the wait. Stay tuned for updates.