Google's first generation Pixel and Pixel XL managed to hold on to the best camera phone title for the most part of its first year but got sidestepped with the arrival of the HTC U11 series and the later by Apple iPhone 8 and its own successors, Pixel 2 and Pixel 2 XL.
Now, the search engine giant has started rolling out Google Lens to the first gen Pixel series, bringing more value to its exemplary camera hardware.
Also read: Verizon Motorola Z2 Force gets major software update with Gigabit LTE feature; all you need to know
Some Google Pixel (and Pixel XL) users on Reddit said that the Google Photo app v3.7 on their devices automatically showed Google Lens option hinting that the company might have slowly rolled out the update directly from the server.
What's so great about Google Lens?
For those unaware, Artificial Intelligence-powered Google Lens, a game-changing camera app that turns a monotonous photo session into a lively infotainment session.
Google Lens is intuitive enough to perceive what pictures the user is taking and provides information of the subject/old forgotten celebrity/locale/music album cover in the photo. For instance, if the users take snap (via Google Photo app) of a hotel and tap Google Lens option, it automatically connects it to Google search function and gives hotel's timings, menu card, reviews and table booking option.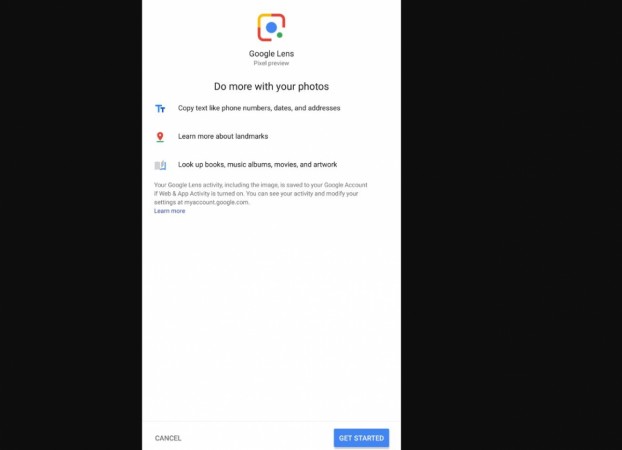 Google Lens (if activated) is also intuitive enough to translate languages, as well.
The Google Lens button, which is currently available to Pixel 2 series is integrated into Google Assistant app and He/she will be able to easily launch Lens and insert a photo into the conversation with the Assistant, where it can process the data, the photo contains and get required information, thus turning the phone camera in to visual search engine.
The praiseworthy aspect of the Google Lens, which was demoed the company's CEO, Sundar Pichai at this year's Google I/O event, is the Wi-Fi auto-connect feature. Pichai connected his phone to a Wi-Fi network just by snapping a photo of the sticker on the router.
Google Lens is intelligent enough to identify that it's looking at a network's name and password, then it offers the user the option to tap a button and connect automatically.
Google Lens app will get more intelligent over time as the company is investing huge cash and engineering resources on Big Data research to improve machine learning.
[Note: Big Data: Extremely large set of information that is analysed computationally to reveal patterns, trends, and associations, especially relating to human behaviour and interactions.]
The company has promised to release the Google Lens to other Android phones (running v6.0 Marshmallow and above) in coming months. Also, besides Google Photo and Google Assistant, the Lens feature is expected to be incorporated in more apps in the coming days.
Follow us @IBTimesIN_Tech on Twitter for latest updates on Google products.