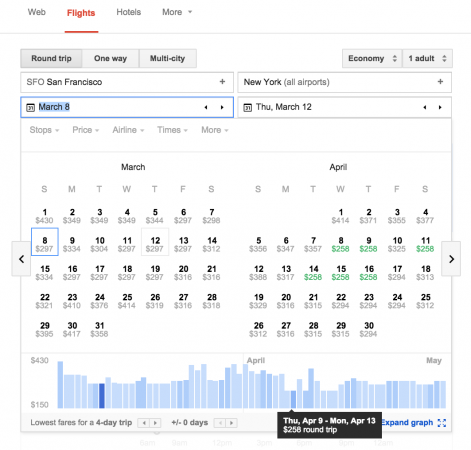 Here is some good news for travellers looking for information and good bargains. Google is offering to come up with travel solutions.
Thanks to the newly updated Flights app by Google, users can find best offers on flights and make the bookings with just a few taps. There are new filters to sort your flights based on dates or fares, so you can plan for your travel easily. Google is also helping those who cannot decide on the destination for their next holiday, by giving a range of options.
Google Flights is basically serving as the go-to place for all traveling needs, be it planned or unplanned. Users can take advantage of the flexible-date search options to compare prices across various months. In fact, Google will give tips on how to bag a cheaper deal. But the search giant also notes that a cheaper deal isn't always what a traveller looks for.
Google Flights blends price with convenience and matches travellers' needs and budget. "We all love a good deal, but when it comes to choosing flights, cheaper doesn't always win—and no wonder, when sometimes that means two connections instead of none. On Google Flights, the vast majority of people choose one of the Best flights—considered to be flights that are the best combination of price and convenience," Google Flights product manager, Eric Zimmerman wrote in the company's official blog.
Google has integrated its popular "I'm feeling lucky" button into Flights to bring some interesting suggestions on popular destinations. Users can also see prices to travel different parts of the world along with flight preferences, such as direct or connecting flights.
If you are have a deadline, search for flights based on your dates by choosing the departure and arrival destination. There's also a graph at the bottom of the fare timetable that highlights the lowest fare for each day. Flights also shows how prices may fluctuate based on season, events or holidays.
Flights can be accessed directly via web to get started on your travel planning.