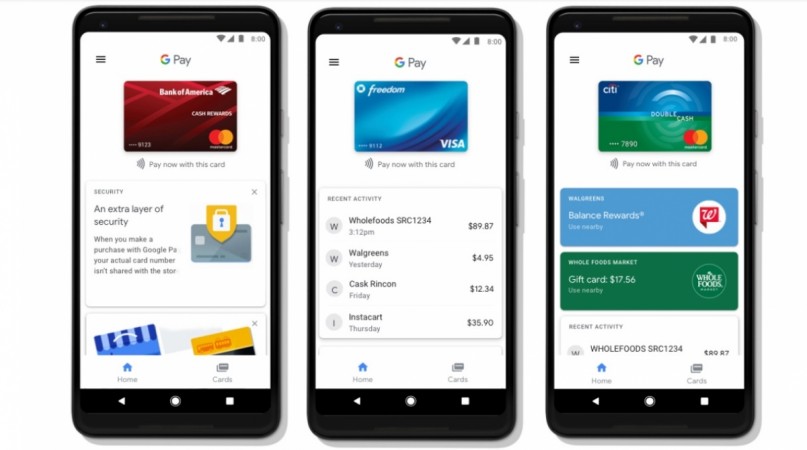 Google has announced the rollout of its Google Pay app for all Google products. It is available on Google Play. It aims at making the checkout process easier for users while making payments on Android devices.
"We're currently working on bringing Google Pay to all Google products, so whether you're shopping on Chrome or with your Assistant, you'll have a consistent checkout experience using the cards saved to your Google Account," announced Google in a blog post. It is also working with online and store partners to make the app available on sites and several places across the world.
The search giant has merged its Android Pay (for online payments) and Google Wallet (for peer-to-peer payments) and rebranded the result as Google Pay. But the Google Wallet app will be called Google Pay Send until it is fully integrated with Google Pay.
The Google Pay app should come to your device automatically with a software update if it has the Android Pay app installed. Even if the app still appears as Android Pay on your phone but as Google Pay on the Play Store, you shouldn't panic as it indicates that the transition is going to happen.
You can see several bits of information like your recent purchases, nearby stores, easy access to rewards etc on your Google Pay's new Home tab and can store details of credit and debit cards, loyalty programs etc in the Cards tab. The digital payment system also comes with strong security to safeguard your account and personal data from threats.
Google Pay has all the features you see in Android Pay and Google Wallet except one that most people find useful, and that is peer-to-peer payments. However, you can expect this feature soon if you live in the US or the UK, as the company has said that users in these countries will be able to send and request money through the app within the next few months.