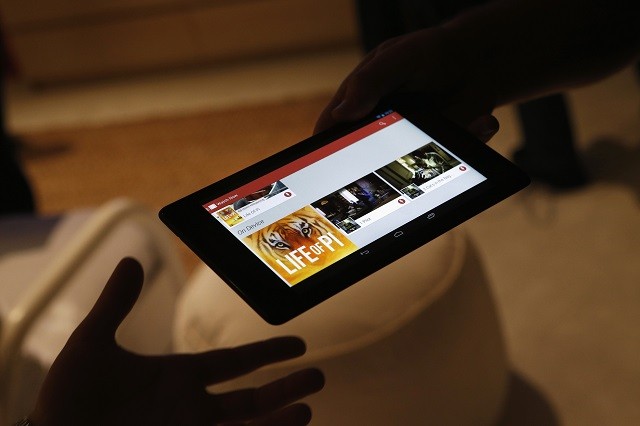 A new report has surfaced online that the long-rumoured Google Nexus 9 aka HTC 'Volantis' would finally see the light of the day next month.
American Chipset maker Nvidia in its legal document in the case related to patent battle with Samsung and Qualcomm, had to release some confidential details.
And inside one of those documents (courtesy, BSN), Nvidia has revealed that the company's new generation Tegra K1 (64-bit Nvidia Logan processor) has been used in the upcoming HTC Nexus 9 due to get released in the Q3 this year, thus confirming the existence of the HTC-Google Nexus 9.
Paragraph 134 reads: "NVIDIA's new Tegra K1 mobile processor is so powerful it is being used in products other than smartphones and tablets. Acer is using NVIDIA's new Tegra K1 processor in its Chromebook personal computer, and the Tegra K1 is also used in Lenovo's Terminator S9,a 50 inch 4K Smart TV. Exhibit 59. The Tegra K1 also powers Google's new Project Tango Development Kit, a tablet computer that will enable users to track and map 3D environments by making over a quarter million 3D measurements every second, giving mobile devices a human-scale understanding of space and motion. Id. The HTC Nexus 9, expected in the third quarter of 2014, is also expected to use the Tegra K1. Id. " [More details, HERE]
The news comes close on the heels of HTC announcing to hold an event in New York City on 8 October.
Technology blog, CNET has received an invite from HTC with cryptic phrase - "Double Exposure". It doesn't give away any hint with regard to the significance of the event, but if we go by Nvidia's revelations, HTC in all probability might showcase the 2014 edition of Google Nexus tablet.
According to reports, Google Nexus 9 aka HTC 'Volantis' boasts of Aluminum-based zero-gap unibody design (probably inspired from the company's HTC One smartphones) with 8.9-inch screen with 2,048x1,440p resolutions and ship with the Nvidia's flagship K1 mobile processor with 192 programmable GPU cores, 2GB RAM, 16GB/32GB storage, 8.0-megapixel primary camera and a 3.0-megapixel camera.
Like its predecessor, the tablet is also expected come in two variants - one LTE device and another WiFi-only model.
Leaked Specifications of Google-HTC Nexus 9:
| | |
| --- | --- |
| Model | Google-HTC Nexus 9 |
| Display | 8.9-inch screen with 2048x1440p resolutionsPixel density: 281 ppi (pixels per inch) |
| OS | Expected to come with Android v5.0 (nomenclature beginning with 'L') |
| Processor | 64-bit Nvidia Logan processor (Tegra K1) |
| RAM | 2GB |
| Storage capacity | 16/32GB |
| Camera | Main: 8.0-megapixel camera with OISFront: 3.0-megapixel camera |
| Network | 4G-LTE |
| Add-ons | Aluminum zero-gap design, stereo front-facing speakers |
| Dimensions | 8.91 x 5.98 x 0.31 –inches (226.31 x 151.90 x 7.87 mm) |
| Weight | WiFi-only model: 418 g; LTE model: 427 g |