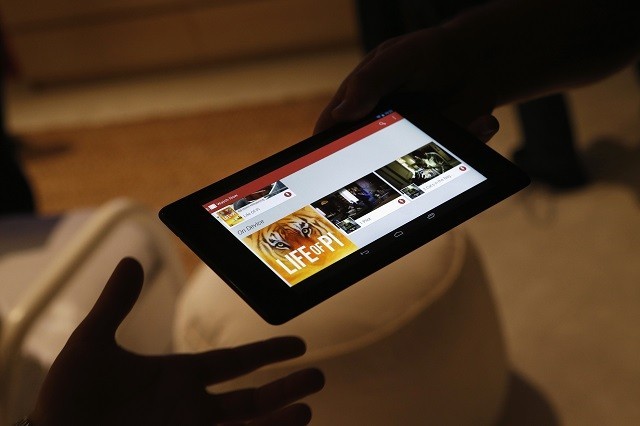 Contrasting rumors that the new Google Nexus tablet has been shelved over next year's 'Project Silver', a new report has surfaced online claiming that the flagship device series' 2014 edition does exist and might even debut next week at the Google I/O event.
Technology blog Android Police has gotten hold of an alleged internal document of HTC's Project Volantis (aka Flounder), which is said to be the code name for the speculated new Nexus tablet.
In the document, we see the press render of the tablet, showing the device's display (with front-camera on top-centre), white-hued shell on the rear (with 'Nexus' logo placed vertically and a camera with LED Flash on the top-right corner). The device's edge boasts tapering bezel design. [To view the picture, click here]
That's not all. The brochure also spills the beans on the device's internal hardware specifications, revealing that the upcoming Nexus tablet will be major upgrade over its predecessors.
The tablet is said to boast Aluminum-based zero-gap unibody design (probably inspired from the company's HTC One smartphones) with an 8.9-inch screen with 2048x1440p resolutions and ship with Nvidia's flagship K1 mobile processor with 192 programmable GPU cores, 2GB RAM, 16GB/32GB storage, an 8.0-megapixel primary camera with OIS and a 3.0-megapixel camera. Like its predecessor, the tablet is also expected come in two variants - one LTE device and the other a Wi-Fi only model.
Even though rumors on Nexus 9 is running wild in the media, neither HTC nor Google has come forward to clear the air regarding the speculations. With Google's annual I/O developer's conclave just a few days away, many believe the search engine giant will pull the wraps off Nexus 9 at the conference. Even the 2013 edition model (manufactured by Asus) made its debut last year in this very event.
Besides the new tablet, Google's annual I/O 2014 developer's conference, which is scheduled to kick off on 25 June, is expected to witness the unveiling of the new OS, probably with a nomenclature beginning with 'L'.
A few days ago, Google teased a smartphone with the time showing '5:00', hinting the new OS version will 'be v5.0'. Since the launch of v2.3 Ginger Bread OS in late 2010, the search engine giant has always used time to indicate the current OS version on its official blogs and social platforms (Twitter, Facebook and Google+).
Get the latest #WorldCup match scores and schedules with Google Now on iOS and @Android http://t.co/zvlHtNJqdc. pic.twitter.com/mWmXs99XbX

— A Googler (@google) June 11, 2014
Leaked specifications of Google-HTC Nexus 9:
| | |
| --- | --- |
| Model | Google-HTC Nexus 9 |
| Display | 8.9-inch screen with 2048x1440p resolutionsPixel density: 281 ppi (pixels per inch) |
| OS | Expected to come with Android v5.0 (nomenclature beginning with 'L') |
| Processor | 64-bit Nvidia Logan processor (Tegra K1) |
| RAM | 2GB |
| Storage capacity | 16/32GB |
| Camera | Main: 8.0-megapixel camera with OIS (Optical Image Stabilization)Front: 3.0-megapixel camera |
| Network | 4G-LTE |
| Add-ons | Aluminum zero-gap design, stereo front-facing speakers |
| Dimensions | 8.91 x 5.98 x 0.31 –inches (226.31 x 151.90 x 7.87 mm) |
| Weight | Wi-Fi only model: 418 g;LTE model : 427 g |