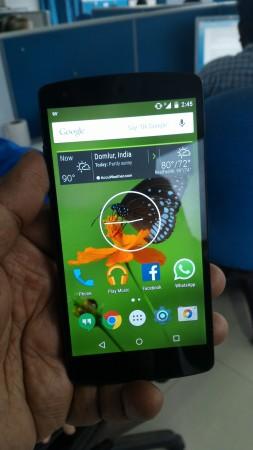 Hype around Google Nexus 5 (2015) aka Nexus 5 2nd Generation has slowly started gaining momentum with its release date drawing close. The search-engine giant may be keeping mum on its upcoming smartphone, but almost every detail, including features, have been leaked.
Nothing is confirmed as of now with Google yet to open up on its upcoming device, but one can't ignore rumours completely and take media reports for granted, as speculations do come true if history is anything to go by. It wouldn't come as a surprise if speculated features are seen in the Nexus 5 (2015) when released.
Google has the tradition of releasing its flagship devices, including Nexus 6 in the last quarter of the year, so its upcoming device is also expected to be launched in October or November.
Nexus 5 Variants:
It is reported that Google is releasing not just one, but two devices this year. According to Android Police, the tech giant will collaborate with LG for a device codenamed "LG Bullhead" and dubbed as the Nexus 5 (2015). It is supposed to be the successor of LG Nexus 5, which was released in 2013 and discontinued a few months ago. Then there is supposed to be another device to be made by Huawei and codenamed "Huawei Angler." It is said to be the successor of Nexus 6 and is expected to come with a bigger screen than Nexus 5 (2015).
Expected Features:
Nothing much has been leaked on the features of Nexus 5 (2015) and even a few that have surfaced so far are not confirmed. According to a report by MobiPicker, the upcoming smartphone will be powered by a Qualcomm Snapdragon 808 processor, and a 2,700mAh battery. It added that the Nexus 6 successor might come with features like a 5.7-inch OLED screen with 1,440x2,560 pixels, Snapdragon 810 processor and 3,500mAh battery. Both the devices are expected to run on Google's upcoming operating system Android M.
Concept Images:
Interestingly, designer Dmitry Stvolov (via Concept Phones) has come up with two concept designs of the purported Nexus device with LG logo – one with a metal build featuring dual front-facing speakers and the other with a plastic body. The images show the device with a 5.2-inch Full HD display, Snapdragon 808 processor, 16mp main camera, 2mp front camera and 3,200mAh battery. However, it should be noted that details shown in the concept images are not confirmed.
Price:
The Google Nexus 5 (2015) is expected to come with a reasonable price tag after the Nexus 6 received lots of flaks for its price. GeekSnack has reported citing a source close to the matter that the upcoming Google smartphone might be priced under $500.
It may be mentioned that the 16GB variant of LG Nexus 5 was priced $350 (₹28,999), and the 32GB model - $400 (₹32,999), while the Nexus 6 was priced $649 for the 32 GB variant and $699 for the 64GB version.