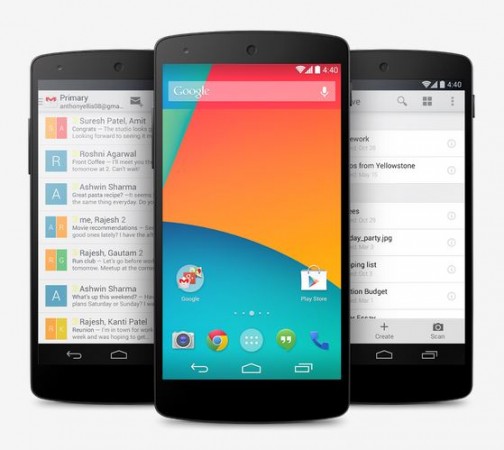 Google's upcoming smartphone, the Nexus 5 (2015), is supposed to be a variant of the Nexus 5 (2013) and not the successor to the Nexus 6 which was released in 2014. The release date of the upcoming device is not known but several reports have claimed that it may happen in October or November, like its predecessors.
The search giant is tight-lipped on the Nexus 5 (2015), but going by reports that have surfaced so far, it is expected to have much superior features than the Nexus 5 (2013).
Display
The Nexus 5 (2015) is expected to sport a 5.2-inch screen with 1440 x 2560 pixels while its predecessor has a 4.95-inch True HD IPS+ capacitive touchscreen with 1080 x 1920 pixels (445 ppi pixel density).
Processor
The Nexus 5 2nd Generation is expected to be powered by a Qualcomm Snapdragon 810 processor, while the Nexus 5 has Qualcomm Snapdragon 800.
Operating System
The Nexus 5 (2015) is expected to come running on Google's upcoming software, Android M, while its predecessor runs on Android 5.0 Lolipop, upgradable to 5.1.1 Lollipop.
Memory
The Nexus 5 (2013) has 16/32 GB internal memory and 2 GB RAM, while its 2nd generation version is expected to have 3 GB RAM.
Camera
The Nexus 5 (2015) is expected to house a 13 MP main camera and 2 MP front snapper but the Nexus 5 (2013) has 8 MP main camera and 1.3 MP front snapper.
However, specifications of Google's upcoming device are not confirmed yet. There are also reports that the search giant might release two devices this year. Android Police has reported that LG is collaborating with Google for the Nexus 5 2nd Generation with codename "LG Bullhead," and that Huawei is working on the Nexus 6 successor with codename "Huawei Angler."