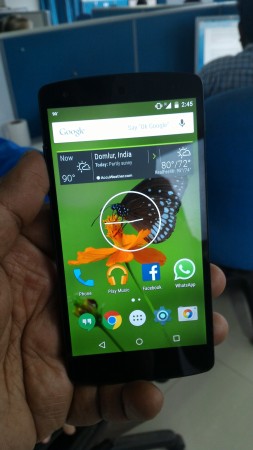 Gadget lovers will fancy Google's upcoming smartphone, the Nexus 5 (2015) aka Nexus 5 2nd Generation, to have all the latest features seen in current high-end devices but a couple of them needs significant change and not just a face-lift. The search giant needs to upgrade two most disappointing features of the LG Nexus 5 (2013) in a big way.
The release date of Google Nexus 5 (2015) is expected to fall in the month of October or November though not confirmed. It is reported that Google will release two devices - successor of the Nexus 6 to be made by Chinese company Huawei and codenamed "Huawei Angler," and the other a successor of the Nexus 5 to be made by LG and codenamed "LG Bullhead."
The Google Nexus 5 (2015) will no doubt come with several feature upgrades over its predecessor, but users of the Nexus 5 (2013) will want significant improvement in battery and memory above all other specifications.
With features like 4.96-inch screen with True HD IPS+ capacitive touchscreen and 1080 x 1920 pixels (445 ppi pixel density), Qualcomm Snapdragon 800 chipset, and 8MP main camera with optical image stabilization, the Nexus 5 (2013) is still not far behind the latest high-end smartphones currently available in the market, but what its users have been lamenting the most all this while is poor battery life and less storage capacity.
The Nexus 5 (2013) has a small battery, a non-removable Li-Po 2300 mAh battery that gets exhausted quickly. Good specifications and 445 ppi screen resolution make it worse but users have to bear with the issue till they are ready for a replacement. It is reported that the Nexus 5 (2015) might come with a 2700 mAh battery but that won't be enough. At least a 3000 mAh battery can make Nexus fans happy.
Another disappointing feature of the Nexus 5 (2013) is its internal storage. Most mobile users need more than 16/32 GB memory and unavailability of microSD card slot doesn't help either. The upcoming smartphone might come packed with a 64 GB version but some users may still want more. So, introducing microSD card slot is the best option.
Not much has been leaked on the features of the Nexus 5 (2015) so far. MobiPicker has reported the device will be powered by a Qualcomm Snapdragon 808 processor, run on a Google's upcoming operating system, Android M, and house a 2700 mAh battery.