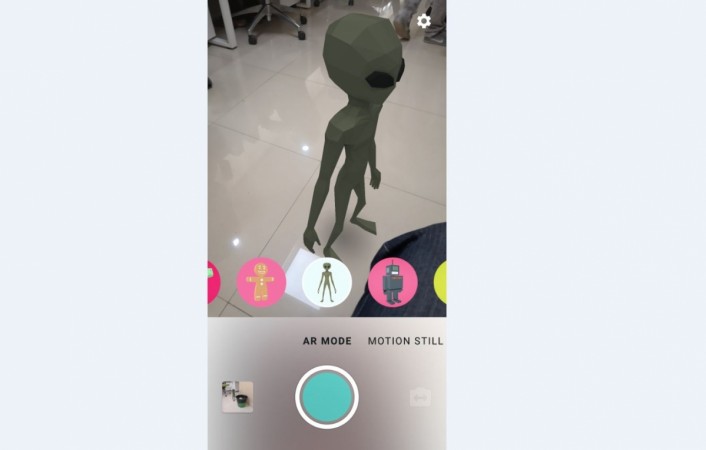 Since the debut of Facebook, Instagram, and Twitter, sharing photos on social media sites has become a daily routine and to catch on the craze, Google, though a bit late to join the bandwagon, launched the Motion Stills photography app for Android phones in 2017 and thanks to feature-rich editing options, many got hooked on it.
Now, the search engine giant, in a bid to improve the appeal of the Motion Stills, has released an update with Augmented Reality (AR) option, which makes the camera app feature-rich than ever before.
How to get started with AR mode on Google Motion Stills:
Once you open the Google Motion Stills, you will find the AR mode first in the list (from the left side). Once activated, a user simply can touch the viewfinder to place fun, virtual 3D objects such as robot, a chicken, an Alien, Gingy (popular Gingerbread Man character in Shrek), Earth and a green Dinosaur, on static or moving horizontal surfaces (e.g. tables, floors, or hands), allowing them to seamlessly interact with a dynamic real-world environment. You can also resize the characters using two fingers like you do to zoom-in on an image on your phone.
If impressed with the images, he/she can record and share the clips as GIFs and videos on social media sites.
"AR mode is powered by instant motion tracking, a six degree of freedom tracking system built upon the technology that powers Motion Text in Motion Stills iOS and the privacy blur on YouTube to accurately track static and moving objects. We refined and enhanced this technology to enable fun AR experiences that can run on any Android device with a gyroscope," Google Research team said.
Stay tuned. Follow us @IBTimesIN_Tech on Twitter for latest updates on Google products.