Search engine giant Google first announced the Artificial Intelligence (AI)-powered Google Lens for Pixel phones at I/0 2017 and since then, it has been made available to almost all Android phones. Now, the intuitive image search option has been made available on Google Search for iOS.
The company has confirmed that the new Google Lens can be accessed directly on the search tab. It comes in the familiar square-shaped camera lens just beside the microphone icon (for voice search) on the right side.
For the uninitiated, Google Lens is an highly-advanced camera feature that can turn a sombre photo session into a lively infotainment interaction.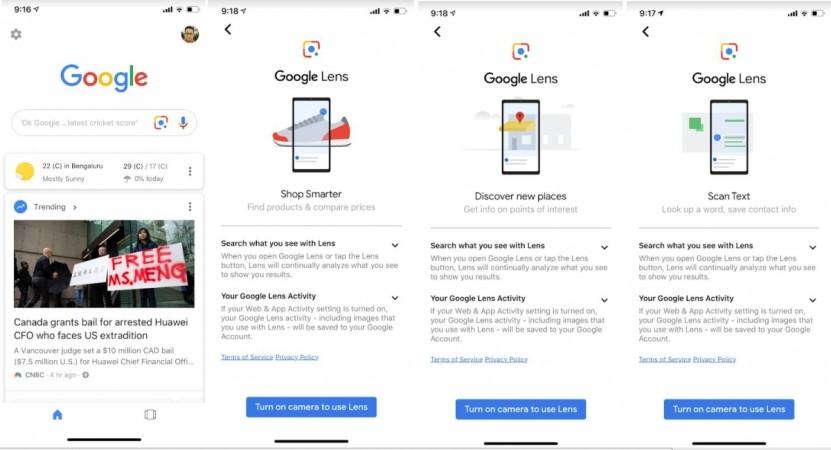 With machine-learning algorithm integrated into Google Lens, it is intelligent enough to perceive what pictures the phone user is capturing and provide information of the subject such as an old forgotten celebrity, a locale or a music album cover in the photo. Google Lens literally turns your Apple iPhone into a visual search engine.
For instance, once the users load the Google Lens on the search app, it will activate the iPhone Camera. Then take the snap of the restaurant and tap on the name board, it will automatically connect to the Google Search function and give the hotel's timings, menu cards, reviews and table-booking options.
If the menu card is in a foreign language, Google Lens can also help you translate it into English or your mother tongue (select global languages). This will definitely add more value to the Apple iPhone users if they travel to exotic places.
Another notable aspect of Google Lens is its capability to perceive information within a photo and accurately carry out the function.
You can even connect the phone to a Wi-Fi network just by snapping a photo of a sticker on the internet router.
It is said that Google Lens is intuitive enough to identify that it is looking at a Wi-Fi network's name and password, then it offers the user the option to tap a button and connect automatically.
This is just one of the many capabilities of the Google Lens app, and like many G Suite services, it will get more intelligent over time as the company is investing a lot of engineering resources on Big Data research to improve the machine learning.