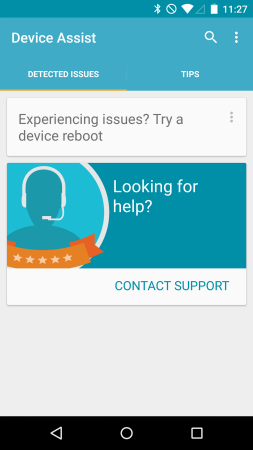 While the Android 5.0 Lollipop updates feature significant designing and feature improvements from its previous generations of Android, the over-hyped version has already shown some bugs. And before anything goes seriously wrong, Google has released an app for detecting and fixing the bugs if spotted.
Device Assist will help the current Android 5.0 Lollipop users on stock based Google devices including the NEXUS, Google Play Edition and Android One devices. With an elaborated interface, this app is able to provide tips and troubleshooting to help one get an error free experience.
Several users have complained about issues with GPS, connectivity, battery draining and restarting after updating their NEXUS, GPE and Android One devices to Android 5.0 Lollipop.
The Device Assist app will automatically detect the bugs in the devices and accordingly will keep notifying the user with possible troubleshooting measures. The Device Assist app will also send device diagnostic report to Google and later help the user with direct assistance from the developer.
Currently available only to US-based NEXUS, Google Play Edition and Android One devices running Android 5.0 Lollipop, the Device Assist app also offers tips and tricks to users for enhancing their system performance and Android 5.0 Lollipop experience.