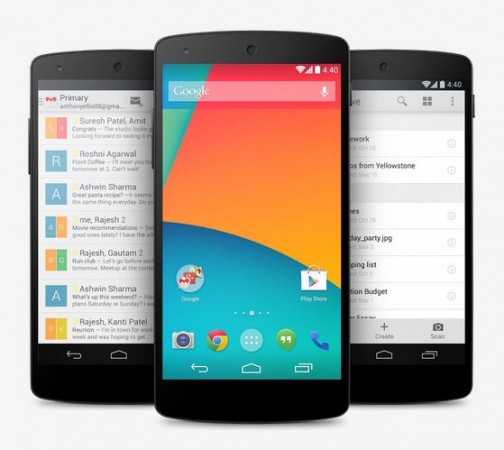 Despite featuring power-house specifications, Nexus 2015 smartphone and tablet has failed to live up to the expectations. Experts believe the bigger screen size with a whopping price tag is to be blamed for the average response for Nexus 6.
Learning from the past mistakes, Google is rumoured to be working on two new Nexus smartphones now. Unlike previous edition, the upcoming Nexus devices will be launched in two display variants. Also, both the smartphones will be made by two different manufacturers, LG and Huawei.
The LG Nexus device will carry the code name, Angler, while the Huawei-made device will come up with the code name, Bullhead.
LG Angler is rumoured to boast a 5.2-inch display and is about to skip the ARM chipset for the configuration. According to Android Police report, the upcoming Nexus 5 2015 edition might feature a Snapdragon 808 hexa-core chipset, used in LG's latest flagship smartphone LG G4. It is also purported to feature a 2,700mAh battery. With the small display, the upcoming Nexus 5 2015 edition is expected to appeal the existing Nexus 4 and Nexus 5 owners.
On the other hand, Huawei Bullhead will apparently feature a bigger 5.7-inch display to attract customers who are fond of big displays. It is rumoured to flaunt the latest Snapdragon 810 and a 3,500mAh battery, hence providing ample battery juice to the Nexus 6 successor.
Earlier, NDTV Gadgets reported that Huawei's debuting Nexus device will mostly be based on its successful smartphone, Ascend Mate 8. The rumour suggests that the upcoming Huawei Nexus will boast a 5.7-inch QHD display with 1,440x2,560 resolution.
Both Nexus smartphones are expected to be available around October this year and most probably be priced within mid-budget to flagship range.
However, there is no official confirmation from Google, LG or Huawei as of yet.