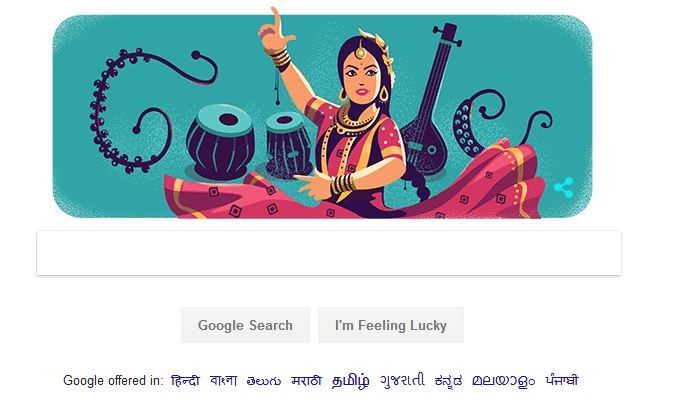 Sitara Devi was an eminent Indian classical Kathak dancer and Google has created a Doodle of the Nritya Samragini (empress of dance) to celebrate her birth anniversary on Wednesday.
1 Sitara Devi was born in a Brahmin family in Kolkata on November 8, 1920 and she was one of the five children of Sukhadev Maharaj and Matsya Kumari, who had two other daughters - Alaknanda, Tara, and and sons - Chaube and Pande. Since she was born around Dipavali, she initially named Dhanalakshmi and was fondly known as Dhanno.
2 Her father Sukhadev Maharaj was a Vaishanavite scholar of Sanskrit and he earned his livelihood by teaching and performing Kathak dances. Her mother Matsya Kumari hailed from a royal family of Nepal.
3 Rabindranath Tagore was impressed with Sukhadev's indepth knowledge about the Indian performing arts. He encouraged him to revive and ensure elevation of them to a dignified status. Sukhadev decided to make his children learn and perform Kathak.
4 But those days, the boys and girls of decent families were not expected to learn Kathak. Hence, Sukhadev faced a lot of criticism from the members of his community, who called his daughters prostitutes.
5 Maharaj shifted his residence to another area of Varanasi. He established a school to teach children including his own. He admitted children of prostitutes, which made him face pressure from law enforcement authorities.
6 As per family tradition, Sitara Devi was supposed to get married at eight, but she insisted on going to school. She learned dance by watching her sister and also used to accompany her father to his live performances. Once she was selected for a dance drama based in her school and was able to steal the show.
7 When she was 11, her family shifted to Mumbai. She gave a Kathak performance in Atiya Begum Palace and audiences included Rabindranath Tagore, Sarojini Naidu and Sir Cowasji Jehangir. Impressed with her, Tagore made her perform in Tata Palace of the Tata Group and even felicitated her with a shawl and a gift of Rs 50 as a token of appreciation.
8 When she was a 12, Sitara Devi was recruited by filmmaker and a dance director Niranjan Sharma. She went on to give dance sequences in some Hindi movies like Usha Haran, Nagina, Roti, Vatan, Anjali and Mother India in which she performed a Holi dance dressed as a boy. This was her last dance in a film. She taught Kathak to Bollywood celebrities such as Madhubala, Rekha, Mala Sinha, and Kajol.
9 Besides Kathak, Sitara was also an accomplished dancer in many other styles of dancing including Bharatanatyam. She also learnt the Russian ballet and other dances of the western world. She was honoured with several awards including Sangeet Natak Akademi Award (1969) and the Padma Shree (1973), Kalidas Samman (1995) and Nritya Nipuna.
10 Sitara Devi was married to Nazir Ahmed Khan, K Asif and Pratap Barot, with whom she had a son, Ranjit Barot. After a prolonged illness, she died at Jaslok Hospital in Mumbai on November 25, 2014.