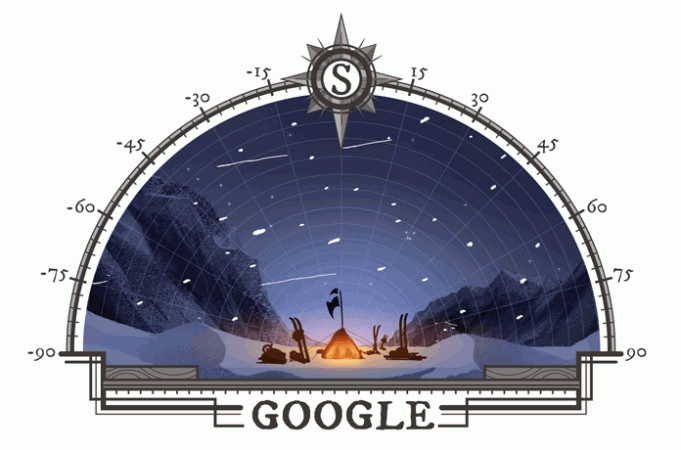 Google on Wednesday commemorated Norwegian explorer Roald Amundsen's expedition to the South Pole 105 years ago with a Google doodle. Amundsen was the first human to reach the southernmost part of the Earth in December 1911.
Amundsen, however, was not alone in his expedition and completed the tremendous feat with a group of other people and around 16 dogs. Born in 1872, the Norwegian explorer was 25 years old when he began travelling. Although the adventurer had planned to be the first person to reach the North Pole, two other explorers Robert E Peary and Frederick Cook beat him to it in April 1909. He, then, set his eyes for the Antarctic aiming to reach the South Pole first.
"Today marks the 105th anniversary of Roald Amundsen's expedition to the South Pole. Known as 'the last of the Vikings,' Amundsen was a lifelong adventurer with a gift for organization and planning," Google said. The Doodle shows the winds in the Antarctic rushing past the tents of the explorers camped in South Pole and their victory flag swaying in the wind.
Reports state that during his expedition to the South Pole, Amundsen had not revealed the plan to reach the southernmost end to the rest of his crew until their ship had left its last port of call. A report by The Independent states that he did so because he did not want any of his supporters to relinquish the mission at the end moment.
He completed his mission to reach the South Pole in three months with his crew, better technology and a slew of dogs. During his expedition, was also racing against a British team set to achieve the same feat, led by Robert Falcon Scott. The British team, however, tragically died on their return journey from the South Pole because of extreme weather conditions.
The explorer died under mysterious circumstances after his plane was believed to have crashed in the fog killing him and his crew members. The plane was reportedly flying on a rescue mission. Reports state that despite rigorous efforts by the Norwegian government, not a single body could be located.