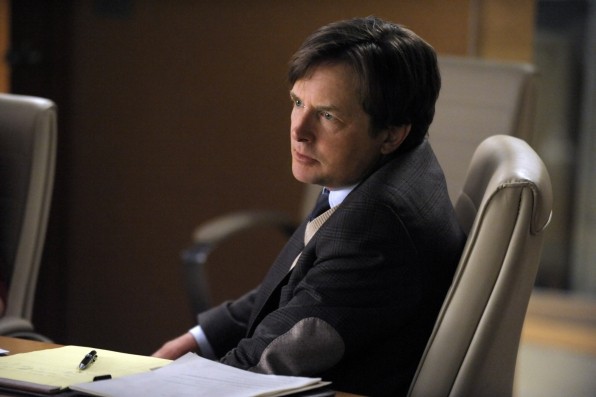 The Tables might turn to Alicia Florrick (Julianna Margulies) as Michael J. Fox will be reappearing as Louis Canning in "The Good Wife" season 6 episode 8.
"Alicia is going to take on a college rape case, which pits her against Louis Canning when it moves from a university hearing to civil court. Meanwhile, Eli and Elfman are going to conduct a political focus group as Alicia dives into her campaign for State's Attorney," reads the official synopsis of the legal drama.
Though CBS has not revealed much about the upcoming episode, spoilers indicate that Alicia and her partner Cary Agos (Matt Czuchry) might get into trouble again.
Alicia appears to be volunteering at a soup kitchen wearing designer garments. She is seen cleaning utensils, serving food and interacting with the people in the spoiler images released by TV Line.
However, the candidate for State's Attorney might get into trouble when a publication will highlight Alicia in the kitchen wearing a designer suit. An article with the title, "Saint Alicia 'Works' The Soup Kitchen" will become one of the trending stories of the city.
Eli Gold (Alan Cumming) describes the photo of Alicia in the article as disastrous, as per the recently released trailer of "The Good Wife" season 6 episode 8.
On the other hand, Agos seems to be counting his days to go back to jail as the promotional clip indicates that he is as guilty as a sinner and Diane Lockhart (Christine Baranski) has lost hope in the case.
In the sneak peek video, Agos tells Lockhart, "You need to protect me more. You understand". But her reply to him raises many questions in the minds of the viewers as she says, "You are days away from spending a decade in prison".
Watch "The Good Wife" season 6 episode 8 on CBS at 9.30 pm on 9 November to find more about Florrick-Canning rivalry, Alicia's run for State's Attorney and Agos future.
Besides Fox, other guest stars to appear in the show includes Rita Wilson as lawyer Viola Walsh, Beth Dixon as Rita, Jerry Adler as Howard Lyman, Madeleine Martin as Jody Milam, Alexander Flores as Troy Anthony, Peter McRobbie as Professor George Paley, Katie Rose Clarke as Reena Booth, Ceci Fernandez as Sally, Clarke Thorell as Hank Shetty, Fajer Kaisi as Larry Kingsley, Leggs as Reggie and David Fonteno as Judge Robert Parks.
Watch the trailer of "The Good Wife" season 6 episode 8 below: