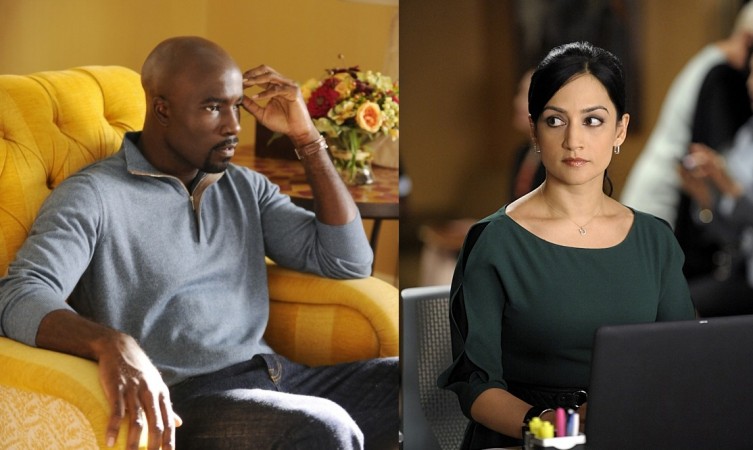 This week's episode of "The Good Wife" has indicated the beginning of a new rivalry between Lemond Bishop (Mike Colter) and Kalinda Sharma (Archie Panjabi) since the latter has made some major move against the former in "Red Zone."
As Sharma continues her search for evidence to prove Cary Agos's (Matt Czuchry) innocence, the drug lord assigns her a new job. He asks Sharma to find out if her lesbian friend FBI agent Lana Delaney (Jill Flint) is doing some investigation against him or not.
Though Sharma digs up the fact that Delaney's new case is related to Bishop, she decides to hide it from the drug lord. But her effort to make him believe that the FBI agent is working on a white collar crime goes in vain when the Bishop tries to spy on Delaney.
He hands over a blank white card to Sharma to put it in her lesbian friend's wallet when they meet up the next time. But instead of placing the card inside the FBI agent's wallet she breaks it into pieces.
Meanwhile, another major problem arises in Sharma's life, when Agos finds out about her relationship with Delaney. Though she tries to confront him, the young man loses his temper and tells her to "go to hell."
Agos could have taken out his frustration on Sharma as he is still not sure of getting out of the criminal case. Though he managed to find out some details about the person who could help him to prove his innocence, he has not been able to trace him.
On the other hand, Alicia Florrick (Julianna Margulies) finds out that a new challenge is coming on her way with the announcement of Frank Prady's (David Hyde Pierce) candidacy because he is a stronger brand than her.
In the meantime, Eli Gold (Alan Cumming) and Johnny Elfman (Steven Pasquale) organise a panel to find out the popularity of Florrick and they realize that she has a long way to go to earn the trust of the voters.
However, the withdrawal of James Castro's (Michael Cerveris) candidacy could bring some good prospects for Florrick's campaign to run for State's Attorney.
The viewers of "The Good Wife" will have to wait until the next episode of the legal drama to know more about Florrick's chances of winning the hearts of the people in Illinois.