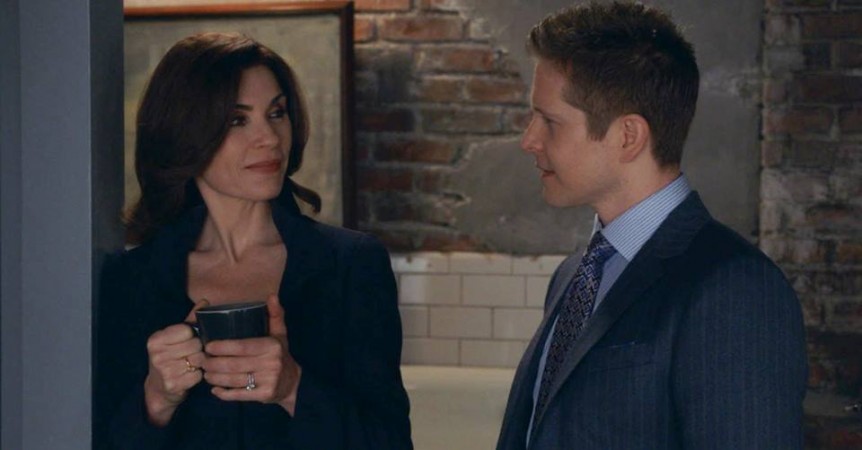 "The Good Wife" season 6 delivered a roller-coaster premiere with an unexpected twist of Cary's (Matt Czuchry) arrest. The next episode of the legal drama series will take the viewers to another surprising turn.
The official synopsis of "The Good Wife" season 6 episode 2 titled "Trust Issue" reads: "Alicia scrambles to hold onto Florrick/Agos' biggest client as the firm continues to struggle with an internal legal crisis. Meanwhile, Diane continues to plot her move from Lockhart/Gardner and looks for partners to bring with her to the new firm."
Looming over the next episode is Diane Lockhart's (Christine Baranski) decision to exit from Lockhart/Gardner and join Florrick/Agos. The sneak peek video of "The Good Wife" season 6 episode 2 indicates that Cary is not pleased with Alicia's (Julianna Margulies) decision to include Diane as a new partner in their law firm.
The 30-second clip begins with Alicia informing Cary about Diane's decision to join their law firm. "Diane is leaving Lockhart/Gardner and joining us," says Alicia.
But Cary does not seem to be happy with Diane's decision to join Florrick/Agos law business as he replies, "Why...you can't sign this without me."
However, Alicia is tied up with an internal crisis and she may go against the will of Cary and lure Diane to their firm or merge with Lockhart/Gardner.
"What is especially appetizing about this is how it impacts Alicia ... How does she show her loyalty to him and yet still protect her own interests? After all, she's got a firm to run, she's the wife of the governor and there is a question mark as to whether she should pursue becoming state's attorney,' Michelle King, the executive producer and co-creator of "The Good Wife", told TV Guide.
Apart from this, the recently released teaser of the most anticipated legal drama shows Alicia saying, "We are now Florrick/Agos' and Lockhart/Gardner." Does this mean that Alicia has merged with her former firm to tangle the problems? The TV World will have to wait till 9.30 pm on Sunday, 28 September, to find out the real "Trust Issue".
Meanwhile, actor Taye Diggs will be joining Alicia and her cast mates in the next episode of "The Good Wife" Season 6. Diggs will be portraying the role of a Dean Levine-Wilkins, who is a talented and meticulous equity partner at Lockhart/Gardner, according to CBS.
Watch the sneak peek of "The Good Wife" season 6 episode 2 below: