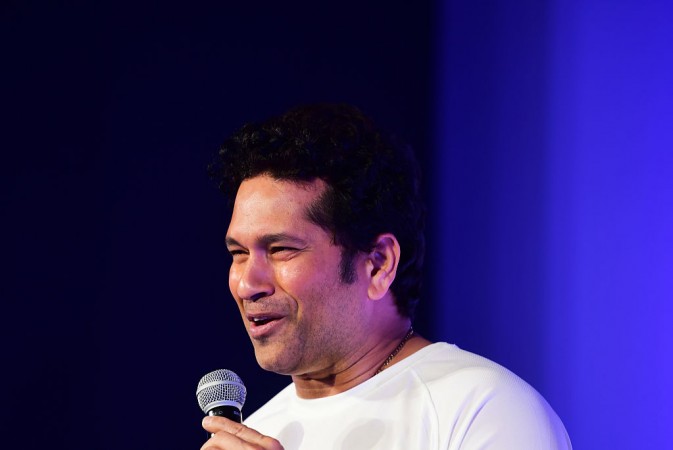 Here is some good news for Sachin Tendulkar's fans. The Master Blaster has announced the date for the launch of his mobile game - "Sachin Saga Cricket Champions". It will be unveiled on December 7.
On Wednesday (November 22), Tendulkar took to the micro-blogging website Twitter to reveal the date. "Just 15 days to go for the launch of my game #SachinSaga! I'm excited, are you?," he tweeted with a brief video to his 21 million plus followers.
The game, which is already available to pre-register on Google Play, is dubbed as "the most awaited cricket game of the century."
"Get ready to play as the legendary master blaster himself in all his glory! Hit shots the way he did, in iconic matches that he led to victory and in authentic stadiums with real-world conditions. We put you in Sachin's shoes to live and experience the cricketing adventure of god himself.
"Choose from over 100 cricketers and build your dream team. Compete on the leaderboard in timed events and chase the dream to become the ultimate cricket champion and meet Sachin himself," a brief introduction says about the game.
Tendulkar, who holds several batting records, retired from international cricket in 2013 after playing for 24 years. Now fans can relive all his matches in mobile game.
Exclusive Features of the game
Legendary Mode
Play as the master blaster himself in his most iconic matches from his past in the same conditions and stadiums as he did. Start the journey of a young 16-year-old Sachin that made him a legend and play his glorious career of 24 years.
Earn Reputation Points [RP] as you progress through Sachin's career. Collect enough RP to compete in different time-limited events.
Events Mode
Build your dream team and play a full game as a 11-man squad in up to 50 over matches and compete with real players in the game to fight for the top spot in leaderboards.
Multiple time-limited events hosted every month that allows you to play your team against other teams.
Player Cards
Over 100 Legendary cricketers to be collected and added to your team.
Acquire players from recent teams and yesteryears and build your own team.
Cricketers have varied levels of Rarity ranging from common to legendary.
Gameplay
All new revolutionary real-world batting system that emulates real-world playing conditions which result in authentic batting experiences.
Play the game in its truest form (zone based bat connections) i.e. well-timed connection of the bat with the ball defines the outcome of the shot and a miss timed connection could result in a catch.
Motion captured batting shots of Sachin himself that allows you to play all his legendary shots the way he does.
Dynamic camera angles that allow you to relive your shots from the best angles.
Replay camera – Experience the beauty of the shot in slow motion as you knock one out all the way.
Watch fielders pull out the ball from thin air to take stunning catches.
Fielders slide and dive to reach the ball just like in actual games.
Authentic stadiums
Play in world famous stadiums from around the globe.
Gameplay emulates pitch conditions of that stadium.
Physical rewards & Leaderboards
Battle friends and other players alike, to win trophies and other in-game rewards.
Stand a chance to win authentic signed merchandise from Sachin himself by winning the leaderboard events.
Win other exciting rewards from different time-limited events that you win.
Win Streak – Win matches in succession to get extra rewards.