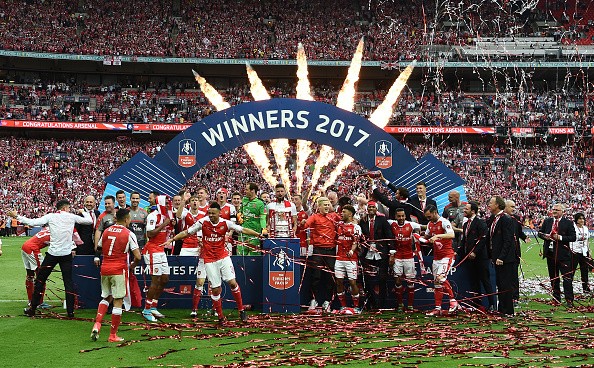 Arsenal are expected to sign a number of new players this summer as they hope to finally mount a title challenge, get back into the Champions League and hopefully win a trophy other than the FA Cup. Arsene Wenger is under a lot of pressure from the Arsenal fans to sign world class players after another disappointing season.
Apart from signing players to boost their squad, Wenger is also looking to extend two of Arsenal's most important players stay at the club. Alexis Sanchez and Mesut Ozil's contract talks have been going on for a long time now and there still have been no new developments on their situation.
Also read: Premier League 2017/18 fixtures: Here is who Chelsea, Arsenal and Manchester United will play in opening week
Since the end of the 2016/17 season, Sanchez has been linked with a move to a number of big clubs like Manchester City, Bayern Munich, PSG and most recently Real Madrid. If the Chilean were to leave Arsenal in the summer it would come as a big blow to the Gunners and replacing a player of his calibre would be next to impossible.
However, despite all the failed contract talks and transfer rumours linking the likes of Sanchez, Ozil, Olivier Giroud and Hector Bellerin with a move away from Arsenal this summer, there is some positive news for all the Arsenal fans out there.
Arsenal's new home kit for the 2017/18 season was recently revealed at Kings Cross station by Gunners legend Robert Pires and Martin Keown. The home kit, which sports a darker red than usual, has a new collar design and the club's famous Arsenal cannon on the back.
The most exciting part of the kit launch is that all the top Arsenal players who have been linked with a move away from the club have featured in the promo video and picture posted by Arsenal on their Twitter account.
The first picture promoting Arsenal's new kit sees Ozil, Sanchez, Giroud, Per Mertesacker and Petr Cech and the second one is a video featuring Bellerin. The Spaniard along with Sanchez and Giroud have been linked with a move to various clubs this summer and while their inclusion in the kit launch is no guarantee that they will stay, it at least gives a hint that Arsenal are fighting to keep them at the club.
The future of Bellerin and Giroud is a little more secure compared to Sanchez and Ozil and even if the two of them do not sign a contract before the new season starts, a strong 2017/18 season might convince them to change their minds.