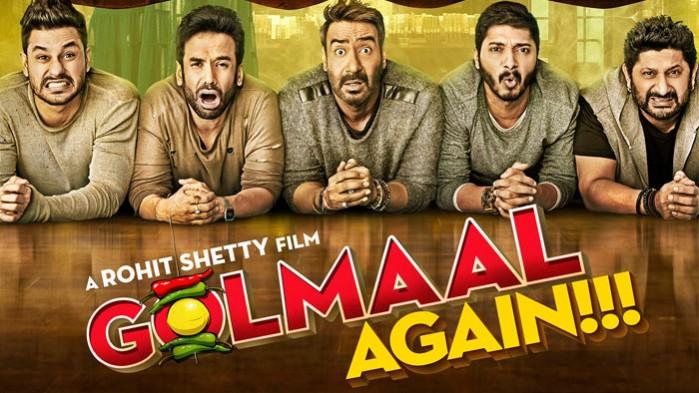 After Aamir Khan's Secret Superstar, people are being treated with another amazing film, Golmaal Again. The Ajay Devgn-starrer is the fourth instalment of Rohit Shetty's Golmaal franchise and the response of the audience is positive.
Golmaal Again or Golmaal 4 features Ajay Devgn, Arshad Warsi, Shreyas Talpade, Kunal Khemu, Parineeti Chopra and Tabu in the movie.
While people around the country are praising the movie and the actors' performance, we also have our own review about the flick. A reporter from International Business Times, India, went to watch the movie and the response is "Laugh Riot."
Also, there's a twist in the second half of the flick which has grabbed audience's attention. The surprising element of Golmaal Again is Nana Patekar. Overall, our reporter says this movie is an entertainer and of course, one-time watch.
IBTimes, India, also brings you the exclusive response of Bangalore (Bengaluru) audience. The Bangaloreans said that the movie is amazing. It is full on comedy and all the actors have done a brilliant job. However, it has got an "OK" response from one of the movie-goers.
Audience response:
Rucha says: "Never expected that fourth part will be so good. I didn't know there will be a twist in the movie. I would give 5 on 5 to Golmaal Again."
Rahul says: "It was good. I liked the comedy parts, every bit. The story was good, but not that great.
Watch the video here: