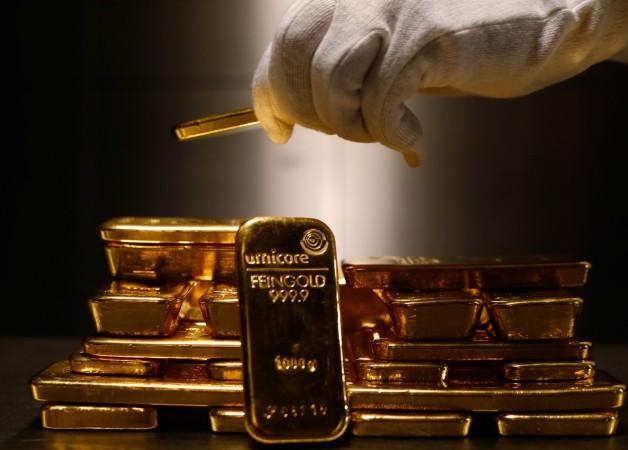 Gold retained overnight gains on Tuesday to trade near its highest in four weeks as investor appetite for riskier assets eased amid global growth worries, while a softer dollar also underpinned prices of the metal.
A sell-off in the stock markets saw gold-backed exchange-traded funds (ETF) attracting investors for the first time in a month after heavy outflows.
Spot gold eased slightly to $1,234.05 an ounce by 0311 GMT, but remained close to a four-week peak of $1,237.30 hit on Monday, when the metal gained over 1 percent.
"(Our) gold exchange-traded products saw their first inflows in a month as dovish Federal Open Market Committee minutes led to dollar weakness, while weak German data renewed interest in the hard defensive assets," said Danny Laidler, head of the ETF Securities' Australia & New Zealand operations.
"Last week's bounce (in gold) could trigger a short-covering rally helping to sustain momentum in the upward trend," he said.
The firm saw inflows of $18.3 million last week into gold exchange traded products, while the top gold ETF SPDR Gold Trust saw an inflow of 1.79 tonnes on Monday - its first inflow since Sept. 10. [GOL/ETF].
The inflows come as Fed officials expressed concern that a sharp slowdown in the global economy could delay an increase in U.S. interest rates, according to minutes of the latest Fed meeting released last week.
Higher rates would have boosted the dollar, but dented the appeal of non-interest-bearing gold.
Those remarks followed soft industrial data out of Germany, the euro zone's biggest economy, and lowered global growth forecasts by the International Monetary Fund last week.
Gold posted its best week in nearly four months last week, as the dollar fell after a 12-week winning streak.
The metal could gain further as a selloff in global equities sent Japanese stocks skidding to two-month lows on Tuesday on heightened concerns about the health of the world economy, triggering demand for safe-havens such as US bonds, bullion and the Japanese yen.
The technical picture for gold also looks bullish, said traders, who expect sharp gains after a solid break above $1,240.