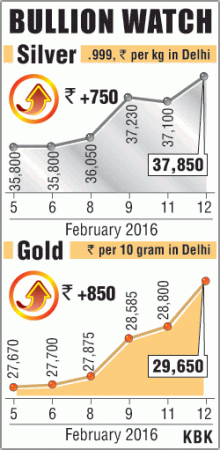 Gold exchange traded funds (ETFs) have staged a significant rally in the past few days in sharp contrast to equities that are on a free fall since the beginning of the year.
Net asset values (NAVs) of gold ETFs listed on the National Stock Exchange (NSE) closed with gains ranging from 1 to 4 percent on Friday, even as the NSE Nifty settled flat after plunging by 239 points, or 3.32 percent, on Thursday.
The 30-day gain for most of the gold ETFs ranged from 10 percent to 16 percent, a reflection of the rally in gold prices in India since Jan. 1.
The biggest gainer on Friday was Birla Sun Life Gold ETF, up 4.03 percent, followed by Canara Robeco Gold ETF that gained 3.01 percent. Axis Gold ETF ended the day with a loss of 1.08 percent.
Religare Gold ETF, HDFC Gold ETF, Reliance Gold ETF and Kotak Gold ETF also gained on Friday.
The uncertainty prevailing in global equity markets is driving demand for the safe-haven asset class.
Meanwhile, gold prices for Apr. 5, 2016, delivery contract were down by a percent, at Rs 29,510, at around 4 p.m., after climbing by more than 3 percent on Thursday.
In Delhi, spot gold prices rose by Rs 850 on Friday to reach a new high of Rs 29,650.
The S&P BSE Sensex recovered on Friday to close at 22,986.12, up 34 points, or 0.15 percent, after Thursday's huge loss of 807 points, or 3.40 percent.