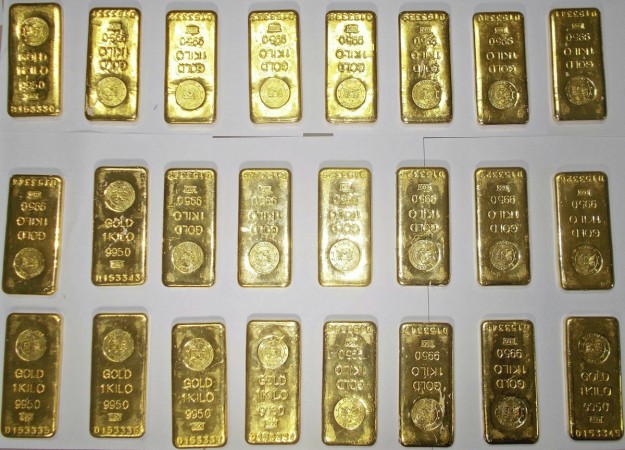 Gold prices are rising in India, ensuring that the smuggling of the yellow into the country remains lucrative. The latest case of gold smuggling has been reported from the Mumbai airport where Indian officials have seized gold biscuits worth about Rs. 60 lakh.
The contraband was concealed in a washing machine motor, tweeted news agency ANI. Further details of the seizure comprising 19 gold biscuits weighing about 2.2 kg are awaited.
Gold prices recently breached Rs. 30,000 per 10 gm in India as wedding season purchases and an overall buoyant sentiment have pushed up prices, according to trade experts.
A rise in prices in international markets have also led to the prices of the yellow metal rallying in the past few months in India.
19 gold biscuits weighing 2204 grams worth Rs. 60 lakhs hidden in a washing machine motor, seized from a passenger at Mumbai airport.

— ANI (@ANI_news) May 3, 2016
Gold smuggling on the rise
Smuggling of the yellow metal witnessed a gradual increase over the years, according to Indian Finance Minister Arun Jaitley.
The government seized gold worth Rs. 832.08 crore in 2014-15, up substantially from Rs. 557.83 crore in 2013-14, while the seizures were valued at Rs. 429.84 crore till Nov. 15 in financial year 2015-16, Jaitley informed the Lok Sabha, according to a PTI report last December.
"Besides, increase in custom duty rates, factors like fluctuation in international price of gold and other restrictions on import of gold also contribute to the increase in incidences of gold smuggling," he told the Lok Sabha.
Gold is smuggled into India from Afghanistan, Bahrain, Bangladesh, France, Hong Kong, Kazakhstan, Kenya, Kuwait, Malaysia, Maldives, Myanmar, Nepal, Oman, Qatar, Saudi Arabia, Singapore, South Africa, Sri Lanka, Thailand, the UAE and the U.K., Jaitley was quoted as saying in the report.
The Mumbai airport is one of the points used to smuggle in gold into India. Rising demand for the yellow metal and buoyant prices are the reasons, according to Air Intelligence Unit, Customs, Mumbai airport.
Rewards to informers
The Customs department has a system of rewarding informers who help in detecting cases of smuggling of the metal as well as evading taxes on gold. The rewards are paid as a percentage of the contraband seized.
"The maximum reward in respect of gold is Rs.50,000/- per kg., for silver it is Rs.1,000/- per kg. If the information leads to the detection of duty evasion, maximum reward of 20% of the duty evaded + 20% of the fine/penalty realised can be given as reward to the informers," according to the Unit's website.
[1 lakh = 100,000 | 1 crore = 10 million | 100 crore = 1 billion]