How high can a girl dream? Will you allow your daughter or sister to become the next Sakshi Malik that India can be proud of? Godha gives the perfect answer to all these questions and is a complete entertainer with every element in the right amount which makes it a must-watch movie.
Storyline
Godha begins by introducing Aditi Singh (Wamiqa Gabbi), a wrestler in Punjab. But her brothers do not allow her to chase her dreams just because she is a girl. Despite the challenges, she wins a wrestling match and you will know how passionate she is. The scene then moves to a Manayathu Vayal ground in a village named Kannadikkal, where Anjaneya Das (Tovino Thomas) and Balan (Aju Varghese) fight over a cricket ball, then and there, comedy moments kick-start in Godha.
Also check: Godha review by celebs|| Audience response
In Kannadikkal, people of older and younger generations have differences in their opinions, especially when it comes to wrestling and cricket. Das' father Captain (Renji Panicker), a strict wrestling coach that youngsters are scared of leads the team of elders, for whom wrestling is not just a sport, but an emotion.
The changes that happen in the life of Das and the entire Kannadikkal village after he meets Aditi at Punjab University form the narrative of the sports movie.
Performances
It is Wamiqa Gabbi, who steals the show with her stellar performance in Godha. The Punjabi actress plays a very convincing act throughout as a tomboyish girl, who is focused on what she wants to become in life. She is charming, energetic and determined, and is sure to have a great fan base in Malayalam. Looking forward to see her in more such challenging roles in Mollywood.
Coming to Tovino, he plays innocent village boy Das. The jobless engineering graduate likes to spend time with his friends in village, and is very smart to escape from dangerous situations. The actor has delivered an impressive performance, but it feels at times that the comedy handled by the him could have been made better.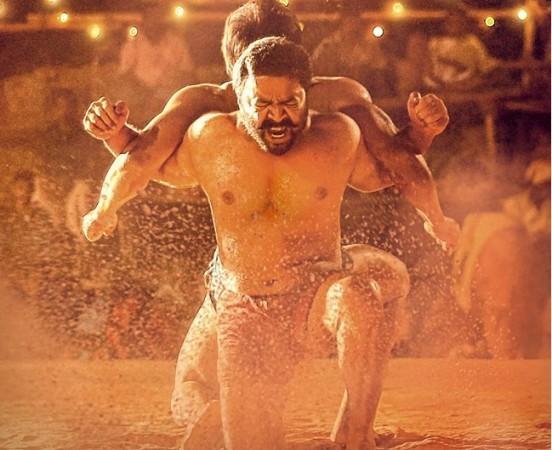 More than Tovino, it is Renji Panicker, who gets importance in Godha, and he has totally nailed it. Captain is adamant, and is the director-turned-actor's complete makeover from what we have seen in Om Shanti Oshaana and Jacobinte Swargarajyam.
Tovino companions' Aju Varghese, Hareesh, Bijukuttan and Dharmajan Bolgatty make us laugh with their one-liners. Parvathy T again comes with a natural performance in Godha. Pradeep Kottayam, Mammukkoya, Sreejith Ravi and the actor who plays Pandi have done justice to their characters, but Hareesh Peradi's dialogue delivery was too dramatical. In short, each of the characters in Godha will surely remain in your mind even after leaving the theatre.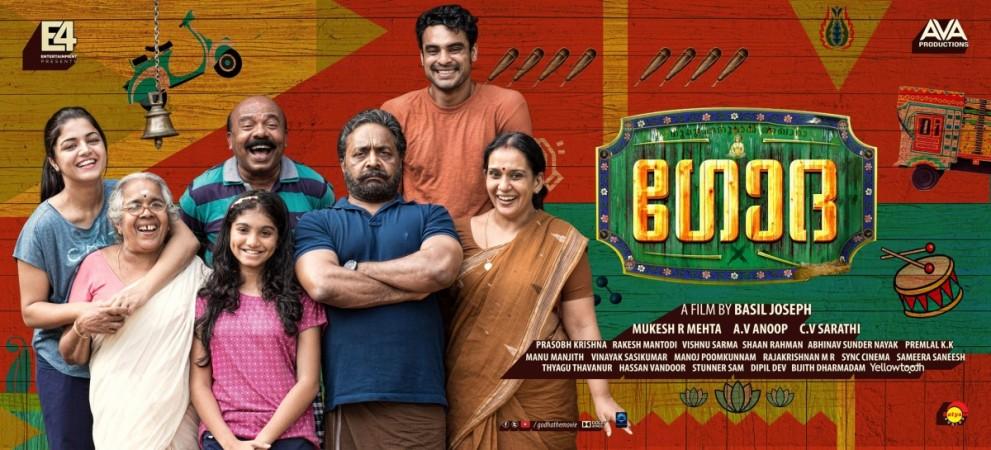 Direction
Godha is the second directorial venture of Basil Joseph after comedy entertainer Kunjiramayanam. But the way he has handled the subject makes him a more mature filmmaker than what we expect from a 27-year-old. He has successfully managed to include humour elements in each scene, even when the plot goes through serious situations. It has a predictable storyline and emotional sequences might sound similar to Aamir Khan's recent release Dangal, which also conveys a similar theme -- women empowerment. Nevertheless, Godha keeps you entertained from beginning till end as the subject is treated differently. After all, that's what audience want while watching a movie.
The only drawback that many might feel is the abrupt ending of the movie, but yes, it's good in a way as Godha is Aditi's movie, not Das'.
Music, Camera, Editing
Shaan Rahman's music is the highlight of Godha making it more of a musical entertainer. The intro song Kannanjunoru Naadu for Captain is just kickass, and all the other songs are also magical as they perfectly sync to the mood of the movie. Vishnu Sharma's beautiful visuals and colour tones stand out, while Abhinav Sunder Nayak's editing is crisp. Subtitles by Vivek Ranjit and stunt choreography by Basil and Minnal Ashan also get a special mention.
Final words
Nobody wants a Sakshi Malik at their home until and unless she wins an Olympic medal. This emotional dialogue by Aditi is sure to make parents regret about shattering their kids' dreams, if they have ever done so. And it's a message to all doting parents. Help your child chase his/her dreams than forcing them in what you want to see them achieve in life. They might even become another Sachin Tendulkar or Sania Mirza, who knows?
Godha is a power packed family entertainer that should not be missed in theatres.
IBTimes India Rating: 4