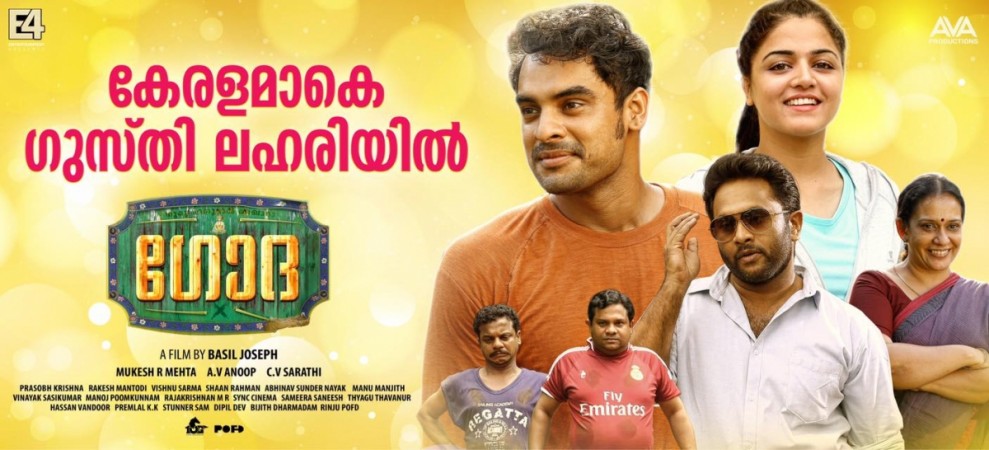 Godha, tagged as Mollywood's Dangal is continuing its fabulous run with packed shows across Kerala since its release on Friday, May 19. However, the Basil Joseph-directorial based on wrestling has now become the latest victim of piracy as the movie has been leaked online and on torrent as well even before its release outside the state.
Also read: Godha celebs, critics reviews || Audience response
CV Sarathi, one of the producers of Godha, has now requested netizens to save Malayalam cinema by stopping piracy and added that the Tovino-starrer is the result of three years of hard work of many. He has also shared the struggles the entire team faced during the filming of the sports movie.
"We have also toiled hard, spent months and worked hard to make this film..,now that some anti social elements have uploaded pirated copies on some torrent sites several peoples seem to be not only watching it but posting in Facebook...and many of them seem to be proudly proclaiming they are many actor's fans..how can you be a fan of an actor when you are intent on ruining the cinema industry itself. These anti social elements out there are out to destroy our industry which is already limbing because of so many ailments.

Once again am requesting every friend out there please watch all Malayalam movies in theaters only..let us all unite to save our industry otherwise ten years down our grand kids may say "There used to be a Malayalam cinema industry [sic]," the producer writes on his social media account.
Godha, starring Tovino, Wamiqa Gabbi and Renji Panicker in the lead roles, was released in 110 theaters in Kerala, and is set to hit the screens outside the state in the coming weeks. "This camera print is taken from one of these theaters sitting among you..so next time when you go for a movie please watch, may be the person sitting three seats down fiddling with his phone may be shooting a camera print...if you love cinema or respect the efforts of all these people watch GODHA only in theaters..am not requesting you all to respect their efforts or the huge investment involved but at least avoid insulting [sic]," Sarathi adds.

The producer has also pointed out that though the pirated copies of Baahubali 2 are online, the magnum opus SS Rajamouli directorial could rake in theatrical share of more than Rs 25 crore from Kerala alone. "So audience is not averse to coming into theaters...We cannot match neither their grandeur nor their huge budgets with our limitations..we used to match and beat them on content and quality not budget..Once Malayalam cinemas used to be the most sought after for remakes in all the other Indian languages despite our low budgets...So if our audience can watch a BahuBali in theater why can't they watch GODHA or CIA or LAKSHYAM..? [sic]," the producer further questions.
Meanwhile, Godha has been opened only to positive response from the audience, and Wamiqa as Adithi Singh has delivered a remarkable performance, while Tovino does a full fledged comedy role in it. The film also stars Renji Panicker, Aju Varghese, Parvathy T, Dharmajan Bolgatty and Hareesh Perumanna in significant roles.
Reads the full Facebook post Basil Joseph here: