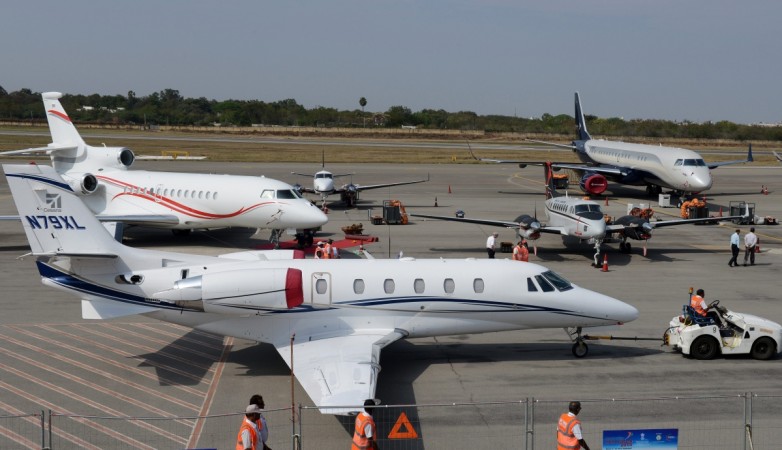 Bengaluru-based GMR Group, which has presence in airports, energy and urban infrastructure, is reportedly planning to sell nearly 49 percent stake in its Hyderabad airport business to sovereign wealth fund Abu Dhabi Investment Authority (ADIA). The news report triggered a rally in the share price of the Group's only listed entity, GMR Infrastructure, on the stock exchanges in early trade on Monday.
The GMR Group operates three airports -- Delhi, Hyderabad and one in Phillippines -- apart from having won a bid to construct a greenfield airport in Goa.
Also read: GMR pips Airports Authority of India, GVK, others to win Goa airport project
The Economic Times (ET) reported that apart from ADIA, the company is also in talks with Paris Aeroport to sell stake in GMR Hyderabad International Airport Limited (GHIAL), a joint venture in which the GMR Group has 63 percent stake, with the rest being held by the Indian government (13 percent), the Telangana government (13 percent) and Malaysia Airports Holdings Berhad (11 percent). The airport commenced operations in March 2008.
The business daily said the GMR Group has been selling stakes in various ventures as part of its strategy to reduce debt that stood at Rs 19,856 crore as of March 31, 2017, down from Rs 37,480 crore at the end of the preceding fiscal.
At around 11.11 am, the GMR Infrastructure was trading at Rs 18.25, up 1.39 percent from its previous close, after hitting intraday high of Rs 18.55. The 52-week high is Rs 22.10.
The ET said that the ADIA had estimated assets under management worth $792 billion, citing the USbased Sovereign Wealth Fund Institute. The ADIA, along with its sister fund, Abu Dhabi Investment Council, derives money from the Abu Dhabi National Oil Company (ADNOC) and invests the money in various assets worldwide, according to the Institute.
The Group's other business interests include IPL franchise Delhi Daredevils, wrestling team Dilli Veer, GMR Energy Trading and GMR Aviation (personalised luxury air travel).