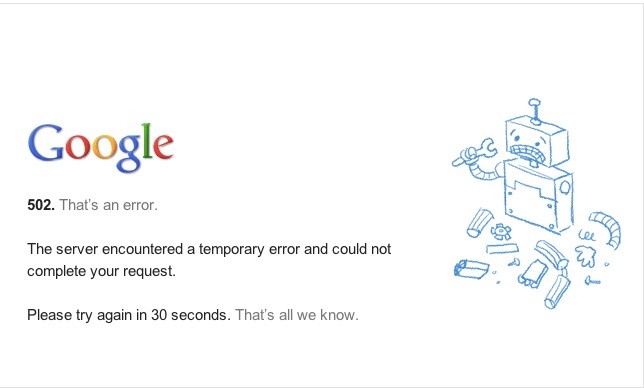 Google's email service Gmail experienced a disruption in India on Monday.
Gmail users across the country have reported a server error, taking the outage in the facility to three in less than a fortnight. Many users claimed to have received a message that read, "502. That's an error. The server encountered a temporary error and could not complete your request. Please try again in 30 seconds," before making a cutting remark , "That's all we know."
Google has confirmed the disruption via App Status dashboard and said, "Our team is continuing to investigate this issue. We will provide an update by 5/13/13 2:50pm with more information about this problem. The issue is affecting less than 0.75 percent of users. The affected users are located in India, Middle East and South East Asia. The errors may appear sporadic and could go away when the page is refreshed."
This is the third time the Gmail facility in India was disrupted in less than a month. The Error 520 messages have become familiar to many as the message hits the screen frequently. Although the problem has been fixed within an hour's time, the persistent occurrence of the server error left many users frustrated.
Gmail is not the only service which went down. Social networking sites like Facebook and Twitter have also witnessed outages on previous occasions. According to some reports, Google Play Store was also down on Monday, causing issues in commercial transactions.