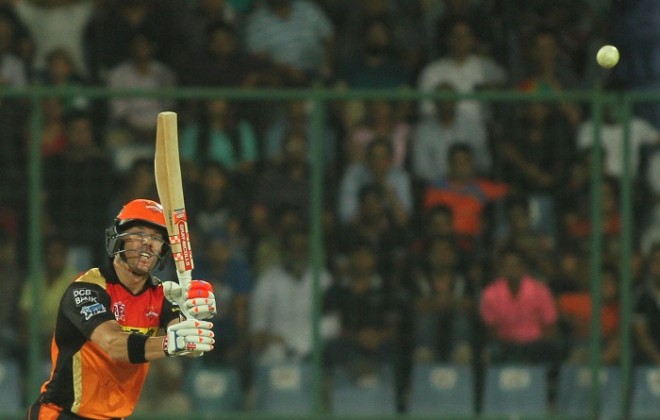 Watch out AB De Villiers, Chris Gayle and Virat Kohli, David Warner is coming for you. With the match seemingly dead and buried, after the frog in the blender action of Shivil Kaushik and the dipping yorker machine that is Dwayne Bravo took complete control of proceedings with the ball, Warner showed just why he is right up there with the best in the business, with a ridiculous innings of 93, unbeaten at that.
After winning the crucial toss, it looked like SRH, without an injured Mustafizur Rahman, had things under control with the ball, before Aaron Finch's brilliance caught them off guard and allowed GL to post 162/7, the same score the Sunrisers Hyderabad defended easily in the Eliminator a couple of days back.
In the pressure chase situation, only Warner (93 n.o., 58b, 11x4, 3x6) put his hand up, as the rest of the batsmen fumbled one after the other. But, just when he seemed to be running out of partners, Bipul Sharma (27 n.o., 11b, 3x6), in the team for his left-arm spinners, stood tall with his captain, to take SRH over the line with four balls and four wickets to spare.
A solid opening would have been what SRH wanted to just make it easier to see the chase through, but Shikhar Dhawan, after three balls without a run, went for a quick single to get off the mark, but Brendon McCullum was there, quick as a cat, to pick up the ball and hit the stumps direct at the non-striker's end.
Moises Henriques put on a decent partnership with Warner on this same ground in the Eliminator against KKR, and to begin with, it looked like the two Aussies would ally for runs again, with Henriques (11, 6b, 2x4) striking the ball nicely, hitting a couple of early boundaries as well. However, Raina's decision to give Dwayne Smith the ball in the fifth over worked like a charm – he would rue giving him the ball again later in the innings -- with Henriques, off the very first ball, lobbing it up to Eklavya Dwivedi at cover.
Yuvraj Singh came in and never looked comfortable, despite a brilliant 44 from 30 in the last match, and it was hardly a surprise when he mistimed a Shivil Kaushik (4-0-22-2) delivery to long-off, with Deepak Hooda, yet again, disappointing with the bat, while Ben Cutting fell to a questionable caught behind decision.
Those wickets left SRH on 84/5, with the equation reading 79 off 45. Only one man was going to win it for SRH at this stage. The only thing Warner needed was for someone to stay with him, much like Iqbal Abdulla did in the chase against GL in Qualifier 2, when AB De Villiers played a blinder.
Naman Ojha (10, 8b, 1x6) raised hopes of being that man, contributing in a brilliant 15th over, bowled by Smith, which went for 19, but then came Dwayne Bravo, with those dipping yorkers of his to dismiss Ojha while conceding just two runs in the over.
That left the Sunrisers Hyderabad needing 45 from the final four overs. Bipul Sharma came to the fore with a big hit out of the ground off Praveen Kumar to help cut that down to 34 from 18, before a 10-run over, courtesy another six from Bipul, brought that all the way down to 24 from 12.
Not it seemed quite possible, even if the penultimate over was going to be bowled by Bravo (4-0-32-2). Warner said "my turn now," finding two fours and two twos to take 12 runs off the first four balls, before Bipul, yet again, finished the over off with a massive straight six. That 19-run over meant SRH needed just five off the last over, which Warner finished off in style.
The first innings was a bit of a muddle, and if not for Finch's fabulous knock, the GL bowlers would have been looking at defending a total of around 130.
Suresh Raina and Brad Hodge, the captain and coach, made the surprising decision of sending Eklavya Dwivedi to open the innings with Brendon McCullum, and that plan did not quite work out as the Uttar Pradesh batsman sliced one off Bhuvneshwar Kumar to Trent Boult at third man in the sixth ball of the match. Raina then failed to lead by example, again, as Boult trapped him in front, with the New Zealander, in for the injured Mustafizur, involved in the third wicket of the innings as well, as he fashioned a run out to dismiss Dinesh Karthik (26, 19b, 4x4, 1x6), who looked good in his time out in the middle.
McCullum, bad back and all, would have just loved to go small-bang from the off, considering he wasn't really in a great position to build an innings and take the singles and twos, but owing to the early wickets, he just couldn't do that. A measured innings never really quite suits McCullum (32, 29b, 5x4), and you felt a big shot was always around the corner, with that either going out of the ground or into a fielder's hands. Unfortunately, for the Gujarat Lions, the latter was the case, and with Dwayne Smith coming and going quickly as well, GL were in big trouble 83/5 in the 13th over.
Up stepped Finch, who was timing the ball well from the off, and with a flick of a switch, those boundaries started coming, with SRH, without Mustafizur's death over skills and some poor fielding – catches were dropped, one crucially off Finch, and misfields were made -- unable to stem the run flow. After that great opening, Boult struggled in his final two overs, as the left-armer leaked 26 runs, allowing GL to post a decent score.