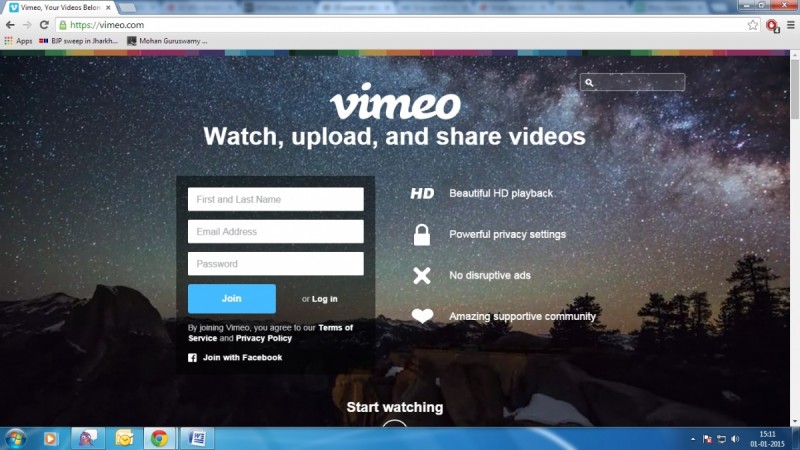 While web-based hosting service provider GitHub and video platform Vimeo has been unblocked, others including Dailymotion and Pastebin remain banned following Indian government's directive to block 32 websites for posting anti-India content.
BJP's National Head at IT Cell Arvind Gupta mentioned in his tweet that the websites have been carrying anti-India content from Islamic State and those who have removed these contents are being unblocked.
"The websites that have been blocked were based on an advisory by Anti Terrorism Squad, and were carrying Anti India content from ISIS. The sites that have removed objectionable content and/or cooperated with the on going investigations, are being unblocked," Gupta tweeted.
Apparently, GitHub and Vimeo have been unblocked after they deleted the posts by ISIS against India. However, many other websites including Dailymotion and text sharing site Pastebin are still unblocked.
While GitHub and Vimeo were accessible from both Airtel and Vodafone, the access to the other two websites – Dailymotion and Pastebin – were barred.
The incident started surfacing after Pastebin on 26 December mentioned about the website being blocked on social media platforms.
"Pastebin is still blocked in India. We are getting many reports about this. The Indian government has blocked us, and right now there is little we can do about it. It has happened in the past, and we got unblocked after some time. For now we recommend using a free proxy service if you are based in India," its Facebook post read.
Later on 30 December a Twitter user posted a circular appeared to be from Department of Telecom (DoT). The DoT circular listed the 32 URLs and said that these websites are being blocked under Section 69A of the Information Technology Act 2000.
The circular directed the Internet Service Licensees to immediately block access to all the 32 URLs or else the DoT will take action under Rule 12 of the Information (Procedure and Safeguards for Blocking of Access of Information by Public) Technology Rules 2009.
However, no official notification has been issued on the Department of Technology website