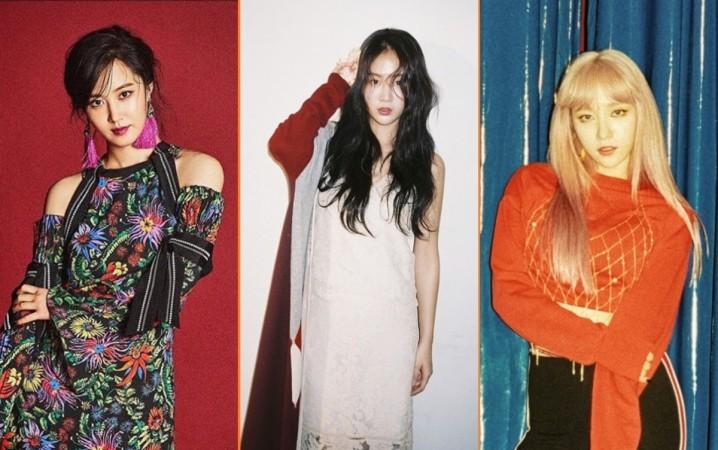 The issues of love, romance, confessions and choice of partners never run dry. In fact, they become even more interesting when K-pop artists speak on such topics. Members of top K-pop girl groups recently revealed their feelings on the often tricky subject of love.
As noted by website Soompi, Girls' Generation's Yuri and Soyou and EXID member Hani were guests on the Korean talk show produced by JTBC, 'Kim Jae Dong's Talk to You 2,' on August 21. It's a show where the audience talk about a particular topic and share their personal stories related to the topic. The topic for the August 21 episode was coffee. However, the discussions that followed soon transformed the topic to love.
The Audience members revealed various perspectives on love and especially how they confessed their feelings or were confessed to. One female audience members recounted how she used to work at a cafe once and had a frequent male customer of hers at the shop. He eventually confessed his feelings to her and was accepted. The couple has been in a relationship for four years since then.
Another man said coyly that he was shy and following a few gulps of alcohol, he confessed his feelings of love for someone. Interestingly, a vacuum cleaner also had its own story to tell. One woman revealed how she found love in a man who came to his sister's cafe and curiously enough, vacuumed the cafe to appeal to her senses.
MC Kim Jadong asked the three singers to talk about their pick from the confessions they heard. Girls' Generation's Yuri chose a handwritten letter and said, "I think all confessions are all nice, but handwriting feels warm." As the MC pointed out to her, "You have to pay attention to grammar and things like that," Yuri said, "If there are many mistakes, then it'll be a bit off."
Soyou revealed she thinks that it is important to know a person well before accepting his proposal. "If you say that you like someone when you don't know that person very well, then you may not know the depth of that person's feelings. So, like that audience member who vacuumed, I think you'll be more drawn to that person if that person showed their face and expressed it more. You need some time to get to know that person. It'll increase the chances of the confession being successful," she said.
EXID's Hani sided with her and the vacuum cleaner saying, "It's bold. I prefer people who are bold." As noted by Allkpop, she added, "If I meet someone I dislike who confesses to me, I can always turn them down by saying, 'I'm sorry.'"