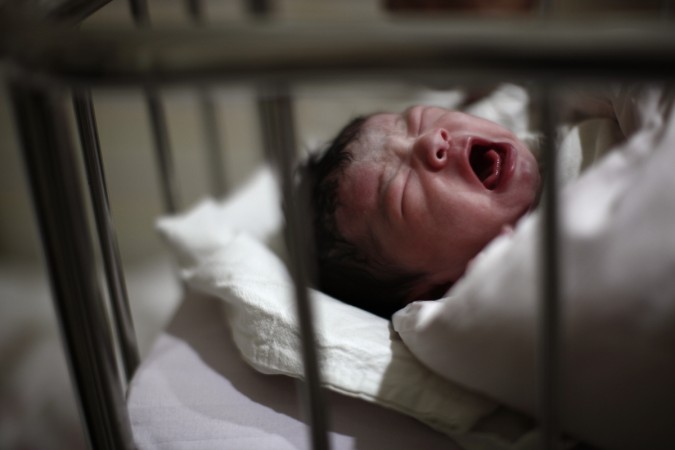 A mother in China has given birth to one of the heaviest babies in the country. The newborn baby boy weighs double the birth weight of an average child born in the world's most populous country.
The statistical report by the country's Ministry Of Health states that the average birth weight on a newborn baby boy is 3.32 kilo-grams while a baby girl weighs 3.21 kilo-grams.
However, the giant baby boy, who was born through a Cesarean section, weighs six kilo grams. Although his father knew that his child will be heavy, he was surprised to see him so big.
Also read Mother leaves baby behind to go on a solo trip: The reason will SHOCK you!
The baby boy's father said that the doctors initially suggested a normal delivery for the 42-year-old mother. But after reviewing the ultrasound results, they decided to go for a c-section.
The mother, who is from Liu'an city of Anhui Province in eastern China, weighed 97 kilo-grams at the time of her labour. She stands five feet two inch in height and the newborn is her second child.
The baby boy and his mother are in stable condition, reported Mail Online.
Another giant baby boy was born in China in March. The 35-year-old mother from Shaanxi Province of North-West part of the country got the shock of her life when she came to know that her newborn baby weighs 6.7 kilo-grams.
A Vietnamese mother also had a similar experience in October. She gave birth to a baby boy, who weighed 7.1 kilo-grams. He is reportedly one of the heaviest babies born in the Southeast Asian country.
Other giant baby boys born in the Asian region this year include a Vietnamese child and another Chinese boy.
The heaviest baby boy ever born to a healthy mother weighed 10.2 kilo-grams. He was born in Aversa Italy in 1955, according to Guinness World Records.