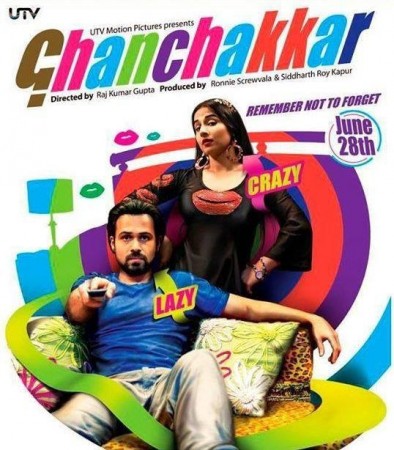 Emraan Hashmi and Vidya Balan starrer "Ghanchakkar" has earned ₹14.5 crore in two days of its release.
The second day total of the film was in same range as Friday's opening. Generally, films witness a jump in their collection on Saturday, but "Ghanchakkar" has not shown any growth.
The film raked in ₹7.2 crore on Friday and ₹7.3 crore on Saturday. The film earned much better compared to previous release "Raanjhanaa".
"Ghanchakkar" is doing quite well after facing competition from "Raanjhanaa" and Punjabi film "Jatt and Juliet 2".
"Raanjhanaa" starring Sonam Kapoor and Dhanush collected only ₹11.93 crore in two days at the domestic box office.
In international market also the film did not show any growth. The film raked in ₹1.03 crore from international market.
Here are the overseas collections of "Raanjhanaa":
UK: Total ₹52.85 lakh (£ 58,413), Friday ₹23.74 lakh (£ 26,229) and Saturday ₹29.12 lakh (£ 32,184).
Australia: Total ₹15.23 lakh (A$ 27,979), Thursday ₹22,516 (A$ 414), Friday ₹6.71 lakh (A$ 12,326) and Saturday ₹8.29 lakh (A$ 15,239).
New Zealand: Total ₹3.60 lakh (NZ$ 7,821), Friday ₹1.79 lakh (NZ$ 3,877) and Saturday ₹1.81 lakh (NZ$ 3,944).
US-Canada: It raked in ₹31.43 lakh ($ 52,800) from 89 screens on Friday.
The film was badly affected in north circuits and key markets in international arena due to the release of Punjabi flick "Jatt and Juliet 2". The Punjabi romantic comedy hit a record after earning ₹1.28 crore on day one.