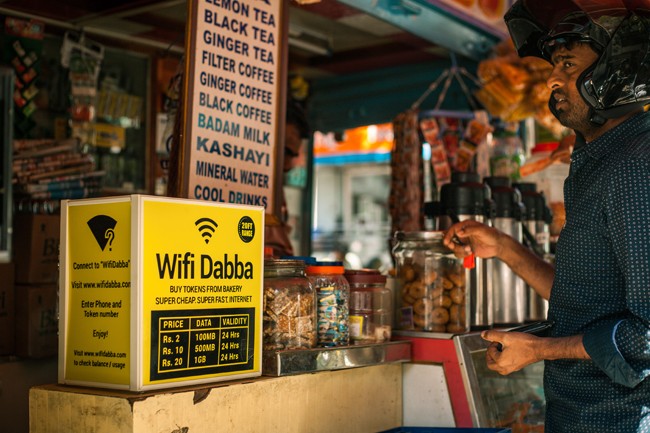 Before Reliance Jio happened to India, we used to paying anywhere between Rs 200 to Rs 250 for a gigabyte of 3G data. But all that changed last year when Jio kicked-off with unlimited 4G data absolutely free for the first three months. Even after the complimentary free period got over, Jio changed the dynamics of the game by offering unlimited data at hard-to-beat prices, forcing other telcos to follow suit. And now, a Bengaluru startup is trying to bring the prices further down with its novel little "dabba".
"Data cost in India is very high at present. We believe that even after the launch of Jio there is a lot of room for price wars to happen and we are certain that we can drop the prices even further," says Wifi Dabba, co-founder, Shubhendu Sharma.
The ingeniously dubbed "Wifi Dabba" is merely 13-months old, but is already selling data for unheard of prices - 100MB for just Rs 2, and if that doesn't sound good enough, there's also 500MB for Rs 10 and 1GB for Rs 20 – with a uniform validity of 24 hours. In comparison, Jio provides 150MB at Rs 19 and 1GB at Rs 52 for its pre-paid customers.
It aims to provide "super cheap" data at "super fast" speeds to people who have only a minimum of Rs 2 to spare. However, users have the option to choose their own data limit and validity according to their requirement and can choose to pay for it online on its website.
Where and how to avail these data packages?
Wifi Dabba offers data in the form of pre-paid tokens sold by small shops like tea stalls and local bakeries in Bengaluru. Just like how you would request WiFi passwords at McDonald's, only here you request for tokens.
"We do not ask our users to download any app. They just need to punch in their mobile numbers, fill in the OTP for verification, punch in the key and connect to the internet," explains Sharma.
How does Wifi Dabba work?
Wifi Dabba is a licensed ISP and it provides this data through small routers - or as the company likes to call it "dabba" – powered by fiber optics installed in these shops. Using fiber optics instead of airwaves provides for a more reliable connection as compared to cellular towers.
To get these wifi dabbas installed, the company partners with local cable operators who lay down the optic fibrecables and it takes about 6 -7 days to create a new connection. However, the startup is working at getting this period down to 3-4 days.
"Instead of installing big towers like big telecom companies do, we are going to put lakhs of these small wifi dabbas across the city to develop a huge network which would cover the entire city of Bangalore," says Sharma.
"We spend Rs 4000 to roll out one dabba and 20 of these dabbas can achieve what one tower of big companies can, at a fraction of the cost," claims Sharma.
In comparison, it takes telecom companies anywhere between Rs 1-2 crore to set up a cellular tower.
The company claims to provide a speed of 50 Mbps in a 100-200 meters radius.
It has already installed 350 of these routers across the IT city as of now, and has received over 1800 connection requests.
Wifi Dabba aims to be the preferred choice for internet data across the nation
"We're a new kind of network. The high-speed kind of network. We are going to provide insanely cheap wifi across Bangalore city. The government's not going to do it, the big companies should not be allowed to do it. It's up to you and we to just do it," reads a statement on the website.
The company also aims to branch out of Bengaluru and plans to criss-cross the entire nation with its high grade fibre optics.
The startup currently enjoys the patronage of three main user groups – lower income people like masons, barbers and others who have purchased their very first Android phones, but don't want to shell out Rs 300 or more just on accessing data. It is also helpful to school-going students who could come to these WiFi-enabled shops to download content for projects.
The company has even made a video asking real people how they find the new concept helpful. Watch it below.
The way forward
"Everyone is moving to data. What Jio did to the country was to get everyone hooked onto data. Now, while data consumption is going north; voice consumption is travelling south. Even Airtel and Vodafone are tweaking their services to provide more data. In the coming years, even voice services are going to be used over data on platforms like WhatsApp," says Sharma.
The founders plan to have lakhs of these routers in place in the next 3-4 years and be the preferred choice for data consumption.
Source: Economic Times