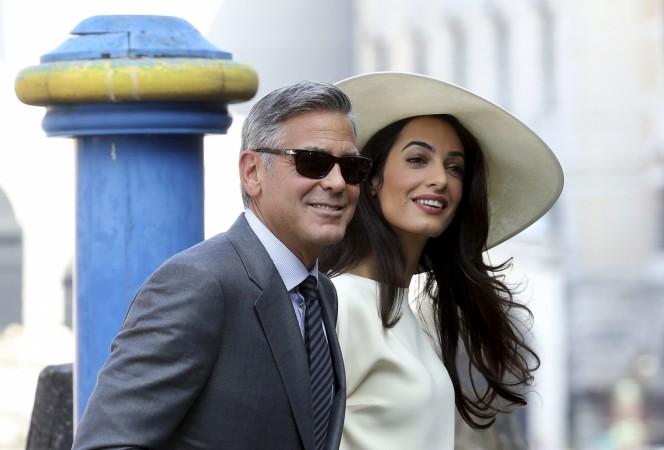 George Clooney and his human rights lawyer wife Amal have something 'exciting' to share. No, it's not what you are thinking.
In an interview with Ross King on 'Good Morning Britain' recently, the actor revealed his plans to move to a nine-bedroom marital home in Sonning, England, with wife Amal.
"We've got a house there, we're fixing it up. We're going to be moving in at the end of the summer, and we're really excited," he said.
George and Amal bought the house in October 2014, just a month after they got married. He said he loves the house and they would have a great time.
"This is located in a small Berkshire village of Sonning. The village has a great old pub and there's a great restaurant, The French Horn there and it's a really beautiful fun place to be. I'm really excited," the 54-year-old actor said.
According to Hello, the couple bought this manor house on the River Thames for £10million.
"The property spread across 4 acres of land is surrounded by trees and gardens, offering the A-list couple seclusion and privacy. Boasting of historic or architectural significance, the house also has a library, gym, spa and steam room, along with a cellar and a boathouse; there is a separate cottage for guests or staff. It is set on," Hello said.
The couple is believed to have added a swimming pool and pool house to the property, along with a large terrace and a private cinema.
Apparently, Clooney was attracted to the area after visiting the nearby Oxfordshire village of Fingest last June while making the 2014 film 'The Monuments Men.' The area is aptly suited for Amal, who works in London.
British fans will now be expecting Clooney to be spending more time in the UK. Last year, the 'Tomorrowland' actor had delighted the British audience when he made a cameo appearance in a charity version of the hugely popular 'Downton Abbey.'
When asked about the possibility of returning to the series, he said, "I've been thinking about it a lot and I think since I nearly destroyed the 'Batman' franchise, I could hurt that series really badly if I came back, so they've asked me not to come back!"