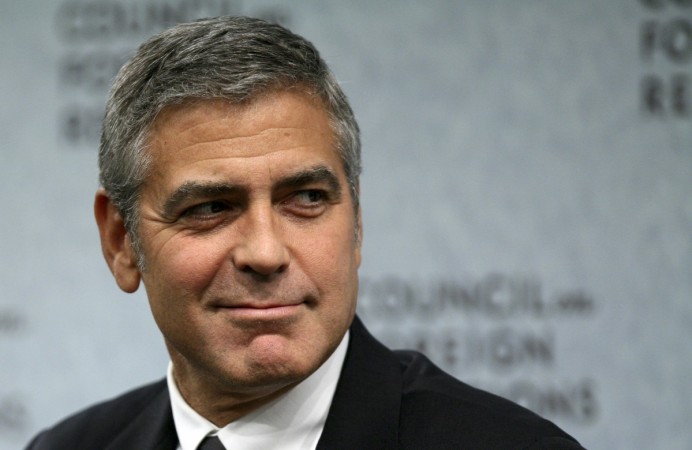 Hollywood actor George Clooney is the latest to take the baton in celebrity biggies to criticise United States President Donald Trump for slamming Meryl Streep. In a recent interview, Clooney called Trump a 'Hollywood elitist.'
In the interview with French TV channel Canal, Clooney said that Meryl Streep was right in speaking her mind at the Golden Globes and that she 'had every right to speak up.'
Celebrities defend Meryl Streep after Donald Trump calls her overrated
"When Meryl spoke, everyone on that one side said, 'Well that's elitist Hollywood speaking.' Donald Trump has 22 acting credits in television. He collects $120,000 a year in his Screen Actors Guild pension fund. He is a Hollywood elitist," Clooney said.
Clooney also a took a shot at President's top strategist Stephen Bannon by calling him "a failed film writer and director."
"Steve Bannon is a failed film writer and director," continued Clooney. "That's the truth. That's what he's done. He wrote a Shakespearean rap musical about the LA riots that he couldn't get made. He made a lot of money off of Seinfeld. He's elitist Hollywood, I mean, that's the reality," according to The Hollywood Reporter.
The actor also called on journalists to continue to affront Trump on his controversial policies and statements and urged them to hold his 'feet to the fire.'
"We have a demagogue in the White House. We need the fourth estate, which is journalists, to hold his feet to the fire. They didn't do a very good job during the campaign and they haven't done a particularly good job yet, but those things will change," Clooney added.
He also highlighted that Americans tend to do "a lot of dumb things over a period of time, but we're also pretty good at fixing them." He gave the example of the Iraq war as an example.
"We look back and we go, well, that was 2003 and then we had Barack Obama. He corrected it. We had someone who was thoughtful and considerate and intelligent. Now, we have Donald Trump, which is hard to imagine. It catches in your throat. But we'll fix it," Clooney said.
While accepting the Cecil B DeMille award at the 74th Golden Globe Awards, Meryl Streep had stunned the audience with her take-down of Donald Trump. The Florence Foster Jenkins actress began her six-minute speech by saying, "There was one performance this year that stunned me. It sank its hooks in my heart. Not because it was good; there was nothing good about it. But it was effective and it did its job," she had said.
Without naming Trump, the three-time Oscar winner said that she was terrified to see Trump mocking a disabled reporter during a campaign rally.
"It was that moment when the person asking to sit in the most respected seat in our country imitated a disabled reporter, someone he outranked in privilege, power, and the capacity to fight back," Streep said. "It kind of broke my heart when I saw it. I still can't get it out of my head because it wasn't in a movie. It was real life," she added.