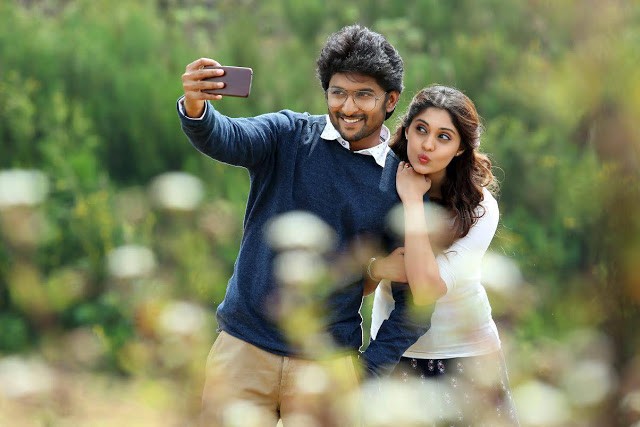 Director Mohan Krishna Indraganti's Telugu movie "Gentleman," starring Nani, Surabhi and Niveda Thomas, has received positive reviews from audience around the world.
Read: Gentleman beats USA premiere records of Nani's BBM, KVPG
"Gentleman" is a romantic thriller film and the director has seamlessly integrated a good dose of action, comedy, suspense and other masala elements in this thriller. R David Nathan has written the story for the film, while director Mohan Krishna Indraganti penned the screenplay.
Audience say "Gentleman" is an emotional thriller, which is fresh and different from other movies from this genre. The movie is engaging right from the beginning till end. The interval portion is superb and is one of the highlights of the movie. Some emotional scenes are sure to leave everyone with teary eyed.
Check: Gentleman Stills | Audio Launch Photos
Nani has played an interesting role with multiple shades and he has delivered brilliant performances, which is the main highlight of "Gentleman". Surabhi and Niveda Thomas, who have played the female leads, have done justice to their roles and their chemistry with Nani is good. Srinivas Avasarala, Anand, Rohini, Pragathi, Tanikella Bharani, Vennela Kishore, Satyam Rajesh and Rama Prabha have also done justice to their roles.
"Gentleman" has been produced by Sivalanka Krishna Prasad under the banner Sridevi Movies and it has rich production elements. Mani Sharma's music and PG Vinda's cinematography are the attractions on the technical front. The film has received a "U" Certificate from the regional censor board and it has a runtime of 2.17 hours.
Nitin Chakravarthy ‏@Nitinreddy1111
Good First Half.. Slow but entertaining.. Pre Interval 20 min #Gentleman. #Gentleman - Intermission : Manisharma's music & BGM are the Biggest asset Liked #Gentleman ..Decent thriller which could have been easily so much better with its Superb story.. Still it made a good watch to me #Gentleman shows why @NameisNani is highly respected as a Gifted actor of Telugu cinema.The way he transforms into two different characters is just Amazing.. @NameisNani You rock #Gentleman #Gentleman : Snail paced narration & lack of Interesting scenes in the 2nd half are drawbacks..& the climax was abrupt.. Can't imagine #Gentleman without Manisharma..This film shows why he's highly respected by every movie lover..Outstanding Background score Watch #Gentleman without expectations.. You won't be disappointed..
Jalapathy Gudelli ‏@JalapathyG
#Gentleman: A neat thriller with interesting interval bang. Nani comes up with another good performance. Niveda & Manisharma are asset.
Haricharan Pudipeddi ‏@pudiharicharan
#Gentleman is excellently placed at interval with a major twist waiting to be unraveled. @NameisNani is extremely good. #Gentleman is a smartly written thriller that plays to the gallery and yet manages to shine with its twists. @NameisNani is in great form. Do watch out for @i_nivethathomas in #Gentleman, because she's here to stay. She's great in the film.
Mahesh S Koneru ‏@smkoneru
Superb performance from @NameisNani in #Gentleman .. Manisharma proves that he is still the King when it comes to background music
Hemanth Kumar C R ‏@crhemanth
#Gentleman is the best film Mohan Krishna Indraganti has made since Ashta Chemma...go watch it this weekend. The actor who walks away with all the glory from #Gentleman is @vennelakishore ....hilarious and...'X'cellent you are Darshanam garu. #Gentleman is a kickass debut for @i_nivethathomas and @Surbhiactress is good in her role...and hail @NameisNani..:-) more later. Also, #Gentleman has two of the best written romantic tracks in recent times... @NameisNani inka 'Natural Star' tag permanent chesyochu :D
Suresh Kondi ‏@V6_Suresh
#Gentleman is a decent thriller.Another hit for @NameisNani in a row.Great Performance.@i_nivethathomas is very impressive.Superb BGM by MS.
Suresh ‏@surddre
1st half Ok,2nd half good..@NameisNani natural acting..@vennelakishore kaka comedy ..Mani sir bgm super..overall good movie #Gentleman @i_nivethathomas u hve a cute smile..good acting in pre-interval n climax..nice debut..all the best n congrats #Gentleman
Harish ‏@harishvarma996
Completed 1st half of #gentleman. A routine movie with few different twists. Good screenplay. @Nani n @anchor_srimukhi are highlight.
ChristopherKanagaraj ‏@Chrissuccess
#Gentleman - 1st half is gud. Nani dual role, looks like thr is a twist to b revealed in sec half. Both Niveda & Surabi beautiful. 2 songs. #Gentleman - Avg 2nd half. Unfortunately the twist was "highly predictable" which spoiled the show. Nani's perf is good. One time watch.
Cinema Reviewz ‏@cinema_reviewz
#Gentleman Telugu movie(2.5/5) - Avg 1st half and Below Avg 2nd half. Concept is good but Narration is slow and twists are predictable - 1/2 #Gentleman Telugu(2.5/5) - Nani, Niveda & Surabi are good. Mani BGM is good but lost his touch in songs. Screenplay could have been better.
ARYA ‏@ARYA_AFDB
1st half short and sweet interval bang awesome @i_nivethathomas steals the show along with @Luis nani #Gentleman 2nd half roxxx nail biting, edge of the seat entertainer. It's @luisnani vs @i_nivethathomas kudos to indraganti 4/5 #Gentleman
Das C H ‏@chs_dass
#Gentleman OK 1st half with 2 different love stories 1st one was good,2nd was dragged but OK..Mani shrama Bgm was rocking,good interval shot #Gentleman niveda Thomas has given good performance..surabhi looks gorgeous...nani asusual natural acting. #Gentleman niveda Thomas has given good performance..surabhi looks gorgeous...nani asusual natural acting.
Sangeetha Devi ‏@Sangeetha_Devi
Is this one of @mokris_1772's best? I think so. Really liked #Gentleman @NameisNani is awesome. It's a lovely to see a film where the women have substantial roles. Surabhi is good. Nivedha Thomas is fabulous. #Gentleman
HARINI SAJJA ‏@teju9666
#gentleman @NameisNani superb acting fully confused hero or villan finally got Clarity ur always hero .@i_nivethathomas superb acting... congrts for 1st hit in Tollywood... looking forward for more Anothername for cute expression @Surbhiactress... congrts babe...ur looking so cute in #gentleman
Venkat Vamshi ‏@vamshi_venkat
@i_nivethathomas Great performance, @NameisNani asusual good performer, #gentleman bagundi, vellidarikosam chuseyyochu movie!! Good luck!
Hari krishna ‏@haripspk18
#Gentleman will be surely an Blockbuster with fantastic performances of @NameisNani #SrinivasAvasarala @MukhiSree Top notch direction..!!
Starky ‏@starky_afdb
#Gentleman Nani acting is excellent and good comedy in first half. but so many cliches in 2nd half plot makes it an average #Gentleman surabhi charavter is average but #NivedaThomas rocks with her performance #Gentleman definitely a good film in @NameisNani career
RAM ‏@a4s4r
#Gentleman A good attempt with nicely dealt screenplay making it unpredictable.BGM by Manisharma stands extraordinary throughout the film.
Lahari ‏@Lahari_S
Really liked @NameisNani, @i_nivethathomas & @Surbhiactress's #Gentleman! Different story captured well - esp the 2nd half!
Sandeep Ruthala ‏@sandeepBZD
#Gentleman . Pre interval to pre climax awesome. Back ground score teriffic. One more hit @NameisNani
Keshav Sagar ‏@Sunnykesh
#Gentleman A very good attempt by Mohana Krishna Indraganti and team. One time watchable flick though. #NanisGentleman
Dheeraj ‏@Dheeraj466
Done with 1st half. Interval ended with a small mystery & I was like what's da reason & y hero dng like this? @NameisNani U were terrific bro The evil looks which u are giving were excellent@Surbhiactress @i_nivethathomas @mokris_1772 #Gentleman Manisharma.. whatt a man u are... kevv background score.m one of the finest @NameisNani @mokris_1772 #Gentleman
Pooja Mahesh ‏@PoojaDaPrincess
Interval twist . Nani and Niveda Thomas @nameisnani #Gentleman Climax tappa 2nd half . #Gentleman Good movie Nani @nameisnani. Liked it. #Gentleman
LI(O)VING LIFE ✨ ‏@keshav4005
@Surbhiactress Loved ur performance in 1st half Aishwarya #ChaliGali song #Gentleman 1st half done... Good so far! Interval twist @NameisNani action #Gentleman @Surbhiactress❤️ Thrilling n entertaining @Surbhiactress Loved ur role cutie gorgeous u r... #Aishwarya role suited u well ❤️ Congrats for one more HIT this year #Gentleman idhi more of a thriller kind of movie... can't compare
Vijay ‏@vijaytarak9999
1st half love scenes followed by pre interval &interval bang! 2nd half superb twists & turns Worth watch Will watch again #Gentleman
Aditya Peesapati ‏@adi_369
@NameisNani stellar performance.. 1st half superb!! Interval last 15mins mani sharma BGM top notch #Gentleman #Gentleman 2nd half a bit dragging!! Over all above avg stuff
Gautham ‏@Sama_Gautham
2nd half is Interesting . Mani Sharma m/ Pre interval varaki ok .interval twist nunchi pre climax twist varaki excellent Nani -ve char with Mani BgMs keka MyRating-3.34/5 #Gentleman