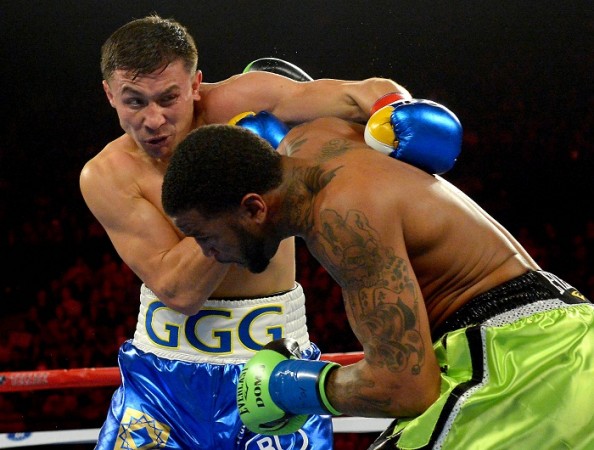 The Gennady Golovkin vs Canelo Alvarez mega bout is on after the Mexican retained his WBC middleweight title by defeating Amir Khan on Saturday. Alvarez's team is also set for the bout and a meeting between the two camps, to discuss the terms of the mega fight, is expected to take place soon.
This is the fight, which boxing fans around the world would love to witness as Alvarez and Golovkin are the best two fighters in the division. Alvarez fought Khan at a 155-pound catch weight, and may want Golovkin, who is a 160-pound fighter, to come down as well.
But, Abel Sanchez, the Kazakh boxer's trainer, says that Golovkin, aka Triple G (GGG) will not 'drop an ounce' for the bout.
"They announced him [Canelo] as the middleweight champion. The middleweight limit is 160 pounds. He's got this diva attitude about 155. It's not a 155lb title. It's a 160lb title. He (Golovkin) won't drop an ounce. We're ready to sign a contract. He [Canelo] gets knocked out in eight rounds," boxingnews24.com quoted Sanchez as saying.
Alavrez's team are helpless as they have to agree to fight Golovkin in the regular 160lb. If Alvarez does not want to fight Golovkin, his title will be stripped and handed over to the Kazakh boxer. So the fight is more or less set to take shape, as Alvarez, the boxer he is, will not give up so easily.
Both the boxers are known to be powerful inside the ring, and have an incredible record in their respective professional careers.
Alvarez has only lost one bout in his career so far, against Floyd Mayweather, and has won 47 of his 49 fights. What remains impressive is his 33 knockout wins. Golovkin's record is even better than Alvarez's as the Kazakh has dominated his opponents with his skills, which is second to none. Golovkin has not tasted defeat in his pro boxing career so far, winning all 35 bouts, with 32 knockouts.
Alvarez has a huge chance to establish himself as the best middleweight boxer, for which he needs to defeat Golovkin.
However, Alavrez, who defeated Khan in his last fight, has to step up his game against Golovkin as the British boxer troubled him in the early stages of the bout. Had those early blows from Khan been stronger, Alvarez might have suffered a defeat. The win was not an easy one for Alvarez.
On the contrary, Golovkin defeated Dominic Wade easily, via a second round knockout last month. Sanchez is confident that Golovkin will knock Alvarez out as well.
"I thought Khan fought a good fight, but he got careless. He was setting him up, and sure enough, he caught him. I thought Khan looked better in terms of composure. He just got caught and got careless. We're going to do what Gennady does best, and we're going to exploit him and knock him out. It's not because of what we saw tonight, but because Golovkin is a better fighter," Sanchez said.