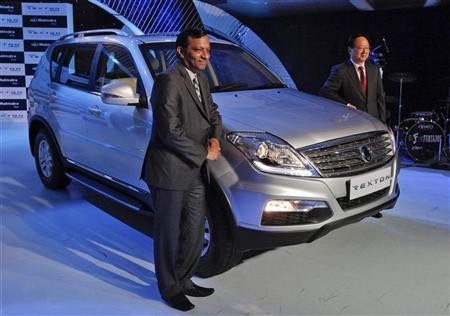 South Korean automaker SsangYong has pulled the wraps off its new XLV concept at the Geneva Motor Show.
Ssangyong XLV Concept, a rookie in the fast-growing SUV segment is based on the company's new design philosophy 'Nature born 3 motion', which projects rhythmical and dynamic exterior design and is aimed at the smart user, who is active and seeks individuality and practicality. The XLV is the latest iteration in a series, which were first seen at the Frankfurt Motor Show in 2011.The car will become one of the company's "core strategic models to underpin its future growth".
It measures 4,430mm in length, 1845mm in width, 1,600mm in height and a wheelbase of 2,600mm. Under the hood, the car packs 1.6-litre diesel engine with a 10kW electric motor which is powered by a 500Wh lithium-ion battery .The SUV concept is arranged in an innovative 2+2+2+1 arrangement with the seventh seat sliding between the second and third rows.
The Korean maker is still coy about revealing the details and the availability of the new concept SUV. However, it is assumed that the Ssangyong concept production model is likely to make its debut by 2016. When launched; the new SUV will directly challenge the US major Ford's best offering in 2013 EcoSport.
Under the hood, EcoSport comes with 1.5L petrol, 1.5L diesel and the 1.0L EcoBoost engine. The 1.5L petrol engine is expected to give 112 PS power and 140 Nm torque. It will come in both manual and automatic transmissions. The manual transmission model claims to give a mileage of 15.8 kmpl, while the automatic model is expects to deliver 15.6 kmpl. The revolutionary EcoBoost EcoSport engine churns out a power of 125 PS and 170 Nm torque along with a mileage of 18.9 kmpl.