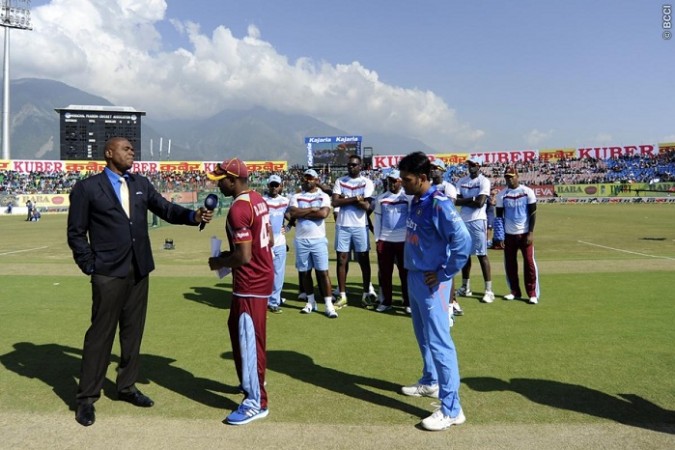 West Indies Cricket Board and its players are headed for another pay dispute, after Darren Sammy wrote a letter on behalf of the 15 players selected to play in the World T20, insisting the contracts on offer are not acceptable. In reply, the WICB have come down hard on the players, saying if the selected squad decide to go on strike, alternatives will be selected and sent to play in the T20 World Cup, which will begin in March.
Sammy wrote a letter to the WICB saying the players would not accept the latest contract on offer for the World T20, which the captain, on behalf of the players, said is almost 80% less than the normal match fees given to the players for major ICC tournaments.
The letter, written to the WICB, was published by ESPNCricinfo on Tuesday, but the board has now hit back at those claims made by the players.
"The WICB is committed to play in the tournament, let me say that first," Reuters quoted WICB chief executive Michael Muirhead as saying on Hitz 92fm.
"No one will leave the shores of the West Indies without signing a contract and if these players in particular choose not to sign, then I guess we'll be left with no option but to substitute other players for them."
Muirhead insisted the pay package was negotiated with the West Indies Players' Association nine months ago, and under no circumstances would the WICB consider renegotiating the terms currently on the table. The players have been given until Sunday to agree to the terms.
"They have had lots of time to digest and argue and do everything," Muirhead added. "Five of the players were instrumental and were there [during the contract negotiations] at the onset, so at this point, I'm hoping that the players will sign and take advantage of the other benefits that are there."
This isn't the first time the West Indies players have raised concerns over a pay package, with the players, then led by Dwayne Bravo, pulling out of a tour to India, midway through the series in October 2014, after failing to negotiate an acceptable contract with the WICB.
The repercussions of that decision from the players are still being felt by the WICB, and the last thing West Indies cricket, or indeed world cricket, needs is a WI team, champions of the World T20 in 2012, playing at the World T20, borne of all the stars.