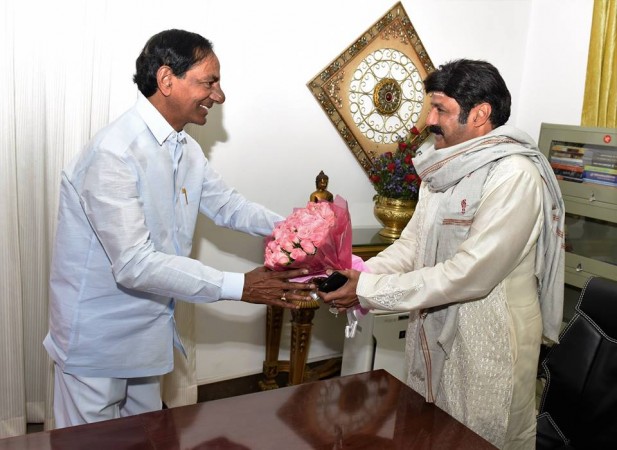 Director Krish's movie Gautamiputra Satakarni (Gautami Putra Satakarni/GPSK), which is set to hit the screens on January 12, has been made tax free in Telangana. Nandamuri Balakrishna has thanked Telangana Chief Minister K Chandrashekar Rao for the exemption.
Read: All you want to know about Gautamiputra Satakarani
Gautamiputra Satakarni is a historical action film that deals with the life of 2nd century CE Satavahana ruler. Written by Krish and Radhakrishna Jagarlamudi, the movie showcases the glory of the Telugu ruler. It was rumoured that the makers would apply for tax exemption in the state on the grounds that the film throws light on the tradition and history of a Telugu king.
The latest we hear is that the Telangana CM has announced the tax exemption.
Nandamuri Balakrishna, who was all thrilled to hear the news, reportedly visited Rao's office on Friday morning and thanked him for making the movie tax free in the state.
Earlier, Balakrishna had invited Rao for the opening ceremony and audio launch functions of Gautamiputra Satakarni. The Chief Minister had taken some time off from his busy political schedule to attend both the events. In fact, KCR was the chief guest on both the occasions. Now, he has completely won the hearts of Nandamuri fans by making the movie tax free in the state.
Gautamiputra Satakarni has reportedly been made with a budget of Rs 45 crore and the film has already earned Rs 39.5 crore from its theatrical rights for Andhra Pradesh and Telangana (AP/T). It is the highest price for a film of Balakrishna.
Trade experts from the industry say that the announcement by the Telangana government would boost the collection of Gautamiputra Satakarni. Andhra Box Office tweeted: "Big News. #GautamiPutraSatakarni set to get Tax Exemption in Telangana. Huge Boost in Hyderabad. With Tax Exemptions in place in Telugu States, every Multiplex Ticket to earn roughly ₹10 (15%) additional Share for #GautamiPutraSatakarni."