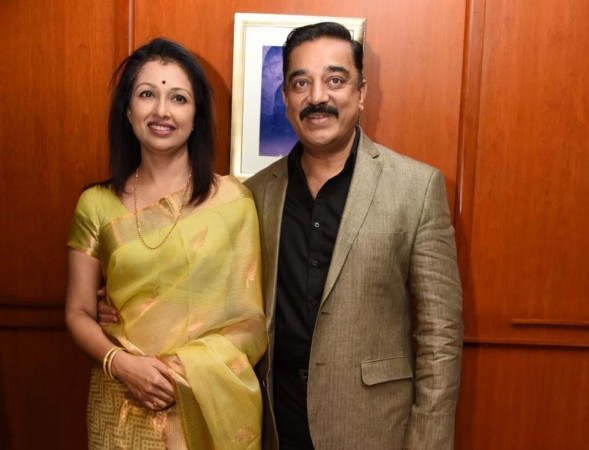 Senior actress Gautami has finally spilled the beans on her breakup from her live-in partner, superstar Kamal Haasan and said that Shruti and Akshara were not responsible for the separation.
Gautami posted an article titled "Past is Past – and there are strong reasons for it" on her blog on February 14. In this article, she has tried her best to clear the air surrounding her relationship with Kamal Haasan. She says that she has not contacted the actor for more than a year now.
Gautami starts her blog post: "I am deeply distressed by recent news items that seem to imply that I continue to be associated with Mr. Kamal Haasan in either a personal or professional connection. I categorically state that this is completely false and I have had no contact with Mr. Haasan since we formally parted ways in October of 2016."
Meanwhile, Gautami claims that she hardly had any business engagement with Kamal Haasan after they got into a live-in relationship. She only worked as Costume designer for the movies produced under his banner Raajkamal Films International (RKFI). When they parted ways after 13 years, she had her salary pending from the RKFI.
The senior actress continues, "As these pending salary dues were the only financial resource at the time for rebuilding my life, I had made repeated efforts to recover the payments from Mr. Haasan and RKFI. I am deeply anguished to say that in spite of repeated entreaties and requests, there is still a significant amount from my due salary pending payment."
Soon after the couple split, it was speculated that Kamal Haasan's daughter Shruti, who was upset with Gautami, was responsible for their separation. However, Gautami has finally opened up on it and said the Shruti was not responsible for it. Kamal's change in commitment is responsible for the separation, she added.
"Both Shruti and Akshara are wonderful young ladies who I knew as children and I continue to look upon them as such till today. Neither of them have any responsibility for the breakdown of the relationship. That rests entirely on Mr. Haasan's change in commitment and my inability to accept that compromise and destroy my self-respect," Gautami explained in the blog post.