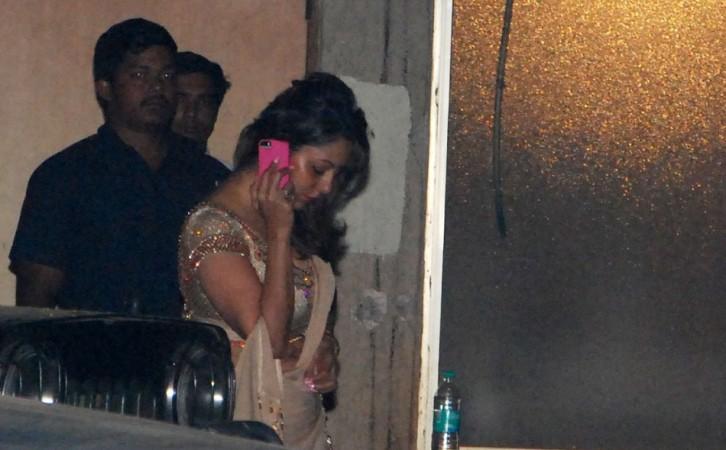 Shah Rukh Khan's wife Gauri's visit to Sohail Khan's Diwali party on Sunday raised eyebrows in Bollywood circles.
Sohail threw a grand Diwali bash that was attended by his family members and several Bollywood celebrities.
Salman Khan, Suniel Shetty, Karishma Kapoor, Yuvraj Singh, Zaheer Khan, Ashmit Patel, Amrita Arora, Tushar Kapoor, Chunkey Pandey and others attended the party on Sunday night.
Gauri too attended the event but without her husband Shah Rukh. SRK and Gauri had attended Bachchan family's Diwali party together on the same night.
Shah Rukh also took to Twitter to thank the Bachchan family for hosting the party.
"Dignity...class....graciousness...will always stand apart. Thanx Mr. Bachchan Jaya Aunty Abhishek & Aish for a great evening & morning..." he said.
But it was only Gauri who made an appearance at Sohail's party. Gauri was spotted leaving the venue wearing the same cream saree, she wore at Big B's Diwali bash.
Earlier in August, the two biggest stars of Bollywood - Salman and Shah Rukh - ended their rivalry and hugged each other at the iftar party hosted by Congress leader and Bandra MLA Baba Siddique. The reunion of the two stars created lot of buzz in the industry.
SRK and Gauri are in good relations with Salman's brother and other family members. Shah Rukh has been spotted partying with Arbaaz Khan several times. Also, Gauri is in good terms with Sohail's wife.
So does Gauri's presence at Sohail's Diwali bash mean that Salman and SRK are becoming good friends again?