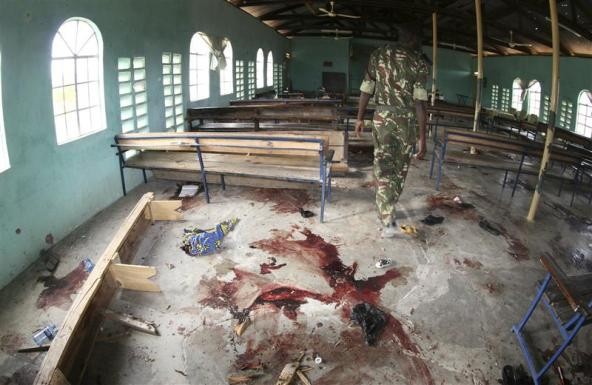 After the Garissa University massacre, where al Shabaab militants gunned down 150 students executing Christians on point-blank range, dozens of churches in the country on Easter Sunday brought in heavily armed private guards to protect their congregations.
Last Thursday, four masked gunmen from the Somali Islamist terrorist group -- Al Shabaab -- stormed the Kenyan university and went on a shooting rampage, singling out Christians in Garissa, some 200km off the Somali border.
In Kenya, Christians make up at least over 80% of the total population and since the university massacre, the community has been horrified by the tales recounted by the survivors.
On Saturday, the militants threatened to carry out more such attacks and turn Kenyan cities "red with blood". Police said they are providing extra security at shopping malls and public buildings in the capital Nairobi and in the eastern coastal region.
On Easter Sunday, the Kenyan priests, who in the past have been targeted by Islamists voiced fear that Christian churches may bear the brunt of possible fresh attacks.
"We are very concerned about the security of our churches and worshippers, especially this Easter period, and also because it is clear that these attackers are targeting Christians," Willybard Lagho, a Mombasa-based catholic priest and chairman of the Coast Interfaith Council of Clerics (CICC), told Reuters.
Several churches in the country have hired armed security forces ahead of the Easter Sunday to protect the congregation. Heavily armed gunmen, with AK 47s, have been deployed at several Christian churches in the Indian Ocean port city of Mombasa.
In Nairobi's Holy Family Basilica cathedral, besides armed securitymen securing the perimeters of the building, several plainclothes security personnel were deployed in and around the church for monitoring any 'threat'.
In the town of Garissa, which is still coming to terms with massacre, armed soldiers were deployed to protect around 100 worshippers of the local church attending the Sunday mass.