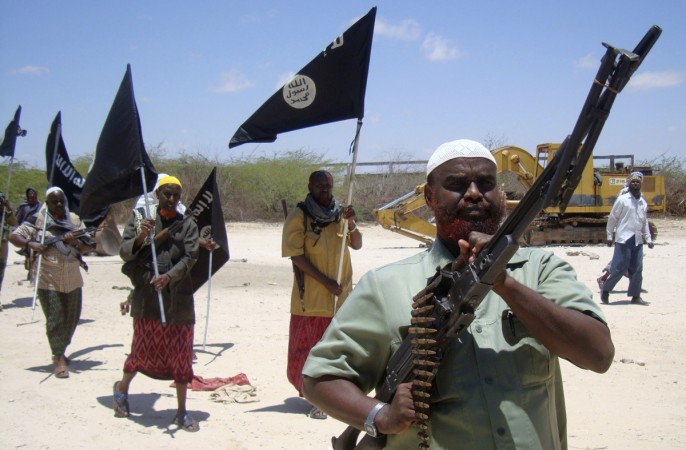 Radical Islamist group al-Shabaab has killed dozens after storming a college campus in Kenya's north-eastern town of Garissa, near the border with Somalia, in the early hours of Thursday.
Local reports state that al-Shabaab militants, who claimed responsibility for the attack, have released the Muslim students, but are holding Christian students and faculties hostage.
At least 14 people were killed and more than 40 wounded after five masked al-Shabaab gunmen attacked Garissa University.
Kenyan police and soldiers surrounded the campus while trying to flush out the gunmen. The armed rebels broke into the college on Thursday morning, at about 5:30 am (local time), when morning prayers were taking place.
Who are Al-Shabaab Militants?
Al-Shabaab is the shorter version of its original name, Harakat al-Shabaab al-Mujaheddin -which means "Mujaheddin Youth Movement" or "Movement of Striving Youth".
The Somali militant group initially shared close ties with al-Qaeda. However, in recent months, the group has been seen inching closer to the Islamic State (Isis).
Besides United States, the militant group - which wants to establish an Islamic Caliphate - has been officially listed as a terrorist organisation in Australia, Canada, New Zealand, Norway, United Arab Emirates, United Kingdom and Singapore. As of June 2012, the US State Department has open bounties on several of the group's senior commanders.
The group has been responsible for killing international aid workers, journalists, civilian leaders and African Union peacekeepers in Somalia. It also has a history of carrying out attacks outside Somalia.
In July 2010, al-Shabaab carried out a suicide attack in Kampala, Uganda, that killed more than 70 people, including a US citizen, who had gathered to watch the broadcast of the World Cup Final soccer match.
Inspired by the Saudi-style Wahabi version of Islam, al-Shabaab has an estimated 7,000-9,000 fighters (as of 2014).
The terrorist group now operates mainly out of Kenya and Somali rural areas.
In June 2014, al-Shabaab fighters attacked the Kenyan village of Mpeketoni, about 100 km from the Somali border, and murdered 48 people. The terrorists went door-to-door and asked residents if they were Muslim or spoke Somali before shooting those who answered "no".