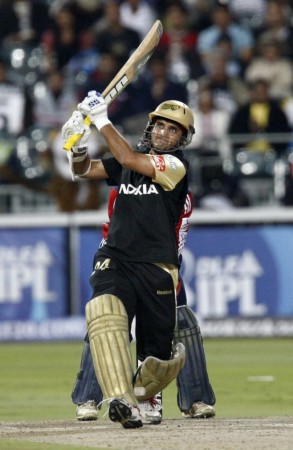 Sourav Ganguly feels India have a good opportunity to defeat England in the upcoming five-Test series, which starts at Trent Bridge on Wednesday.
The last time the Indian team toured in England, they endured a horrifying 4-0 drubbing in the Test series.
"That (2011 Tour) is past. India has a very good chance this time. England are well and truly down. They had lost the Ashes and now they lost in ODI and the Test series to Sri Lanka. It will be very difficult for them to recover from these blows. That is one of the key reasons I think this is Dhoni's best chance," Bangalore Mirror quoted Ganguly, who was a part of the side that won in 2007.
Three years ago, under Andrew Strauss, the English were a much more dominant side with more than one big-name player. Now, they prepare to take on India after suffering a loss to Sri Lanka at home and a 5-0 drubbing by Australia before that.
No longer the side of 2011 with match-winners and resolute players, such as the dominating Kevin Pietersen, the crafty Graeme Swann and the dogged pair of Strauss and Jonathan Trott.
"I don't think this is going to be the same like in 2011 where I thought that England was a far superior team," said the former Indian skipper who had hit a century on his debut at Lord's in 1996.
The last time India toured England, they had with them with services of batting legends Sachin Tendulkar, Rahul Dravid and VVS Laxman. But three years on, the trio have hung up their boots. Dravid, who has a stupendous record in Old Blighty, had an excellent tour. He made three centuries while the English bowling line-up tore into the rest of the Indian batting line-up.
"It is going to be a challenging series, there is no doubt about it. If India can find a couple of bowlers who can step up during the series, then I think they are in for a great series," The Indian Express had quoted Dravid as saying.
"I think this might be a good time and a good series for them to make that jump and actually win one or two Test matches abroad," he added.
Incidentally, Dravid was appointed the batting consultant for the tour.
Former all-rounder Kapil Dev also backed India to do well.
"This team looks much stronger, but it's not going to be easy. I believe in the bowling and not worried about it. Bhuvaneshwar is a seam bowler and these are ideal conditions and so is the case with Shami too. Ishant is the head of the pack and I still believe if he comes out good I have a lot of confidence in the other two," The Indian Express quoted the World Cup winning skipper.