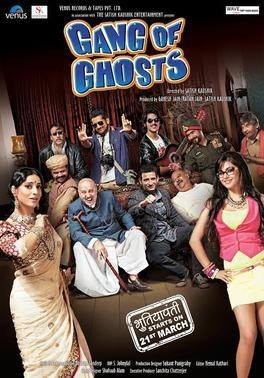 "Gang of Ghosts" is a horror comedy film directed by Satish Kaushik. The film, which is a remake of the Bengali film "Bhooter Bhabishyat" was expected to be a laugh riot. But the film has disappointed critics badly.
Most of the critics have given around 1 to 1.5 stars to the paranormal comedy film.
"Gang of Ghosts" features a host of talented actors including Anupam Kher, Sharman Joshi, Saurabh Shukla, Mahie Gill, Parambrata Chatterjee and Rajpal Yadav. The film also marks the debut of one of the Chopra sisters, Meera Chopra.
Read the reviews here:
Taran Adarsh of Bollywood Hungama said: "Comedy is serious business and the storyteller ought to ensure that the audience reacts to the comic lines/punches as they unfurl on screen. Much like the original, "Gang of Ghosts" highlights the gluttony of the land-sharks to multiply their money, but, sadly, much is lost in translation. Reason being, Satish Kaushik is unable to retain the qualities that made the original film work. Sure, the cinematic sensibilities are different, but the film ought to keep you transfixed from commencement to conclusion.
"Gang of Ghosts" is funny in parts and the zany moments do make you smile occasionally [except for the jokes on flatulence], but, alas, the genuinely funny sequences are few and far between, while the grip loosens at periodic intervals. The film turns captivating towards the closing stages - the penultimate 15 odd minutes hold your attention - but it's too late for damage control.
"On the whole, "Gang of Ghosts" will offer laughs, but only in bits and spurts. It's disheartening to watch a wonderful concept go awry!"
Subhash K Jha in his review said: "Satish Kaushik's funny-ghost story is most certainly not Ghostbuster re-'bhoot'-ed. A remake of a successful Bengali film "Gang Of Ghosts" (GOG) has its funny moments, what with a bunch of spirits from different eras in a ramshackle bungalow trying to fight off building sharks.
"Some talented actors like Parambrata Chatterjee and Rajpal Yadav just plainly seem to be out of sorts, searching for something to peg their skills to. The narration is slippery as an eel. The humour generated by ghosts on the verge of eviction is drowned in numbers. Characters crowd the plot like queues at a ration shop not sure whether the promised food supply would reach their hands.
"Without the advantage of a credulous script these other-worldly characters don't stand a ghost of a chance. Sorry, no ghost-bumps for this one."
Rahul Desai of Mumbai Mirror said: "For a fleeting moment, I was fascinated by the originality of this premise. At best, I imagined it to be a bizarre result of Kundan Shah swishing his satirical wand over China Gate (yes, the movie) based in a paranormal world with the sensibilities of the Munnabhai series. In between mandatory fart gags, there were digs at everything from Ramgopal Varma and his inane camera angles to Ragini and her 'cheap publicity stunts'.
"Mahie Gill clearly has a ball while nailing a melancholic female version of the immortal KL Saigal, stealing almost every scene she's in until Jackie Shroff waltzes in as a late don. Somewhere between these spirits though, the real spirit of the message seems to have been lost in translation.
"I wouldn't go as far as declaring this imitation to be the best form of flattery, but "Gang of Ghosts" does arouse enough curiosity to make you want to watch the real deal."
Mohar Basu of Koimoi.com said: "Ideally, there should have been a zero rating for the film because it is a scene by scene copy of the original and still it shocks me how did this one come off to be such a convoluted tale. Contrived, messy and loud, the film is shamefully lousy defying the law of remakes that expects the infusion of some new perspective in a borrowed premise. If you at all want to watch a film, grab a copy of "Bhooter Bhobishyot" with subtitles. Anyday a better tale!
"The film's characters are shabbily etched out. While the layers of the original was rooted in fact that the script had spent heavily in defining every character, the same couldn't be rendered here making it come off as shockingly dull and hastily done.
"Gang of Ghosts" is a must-avoid film. It is garish, silly and often lame. It would be preferable if people do not tarnish the name of "Bhooter Bhobishyot" by calling this outlandish a remake of it. It is a mere copy, scene by scene, dialogue by dialogue, but misses the spirit of the film overall.
Manjusha Radhakrishnan of Gulf News said: "The idea would be less ludicrous if these ghosts were as endearing as the friendly spirit Casper from the animated Hollywood hit. The paranormal beings in this one are just ghastly. If there are ghosts lurking around for real, then I fear they might take offence to such shoddy cinematic representation.
"It is buffoonery at its worst and a comedy that pretends to carry a social message. Their guns are trained on the greedy real estate magnates that dominate Mumbai. In their process of building skyscrapers, they have forgotten about the dead, the ghosts claim. At one point, Kher even rolls out a plea about graveyards getting smaller and the dead suffocating in their own coffins. If that didn't kill you, then you may just survive "Gang Of Ghosts."