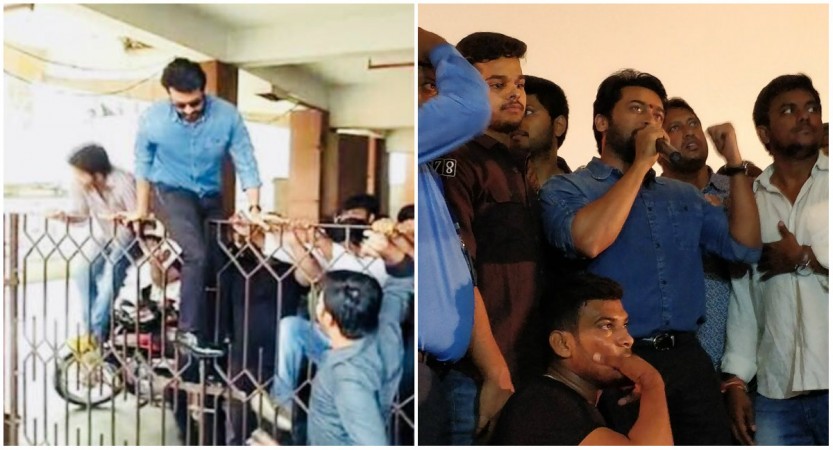 Actor Suriya had to climb up and jump off the back gate of Menaka theatre in Rajahmundry to escape from a crowd of fans after he was mobbed. He was there to thank his fans for making Gang a big success.
Actor Suriya has a huge fan base in Andhra Pradesh and Telangana, where he is probably the next most popular Tamil actor after Rajinikanth and Kamal Haasan. All his recent movies were dubbed and released in Telugu on the same date of its original release and have become big hits at the box office.
UV creation bagged the rights of his latest movie Gang, which is the dubbed the version of Thaanaa Serndha Koottam (TSK) and released it with the original film. The movie opened to a fantastic reception and went on to make a decent collection at the box office in the first weekend.
After seeing the response, Suriya decided to thank audiences personally and toured Bhimavaram, Rajahmundry, Vijayawada, Chilkaluripeta and Ongole on 15 January. The Tamil actor attracted huge crowds in all these areas and the film goers thronged to take a selfie and shake hands with him.
Suriya was mobbed by thousands of fans at the Menaka theatre in Rajahmundry. The actor found it difficult to avoid this crowd of fans, who were trying to take a selfie with him. He ran to the back gate of the theatre and escaped by jumping off the gate. The videos and photos featuring it are creating a buzz in the media.
గేట్‌ దూకి బయటకెళ్లిన హీరో సూర్య.
'గ్యాంగ్' సినిమా ప్రమోషన్ కోసం రాజమండ్రి వచ్చిన సూర్య స్థానిక మేనక సినిమా థియోటర్‌కు వెళ్లాడు. అతడితో సెల్ఫీ దిగేందుకు ఫ్యాన్స్ ఎగబడ్డారు. అయితే అభిమానుల తాకిడి ఎక్కువ కావడంతో సూర్య గేటుదూకి అందరికీ అభివాదం చేస్తూ అక్కడి నుంచి కారులో వెళ్లిపోయాడు pic.twitter.com/1gY6UljQAC

— Sakshi TV (@SakshiHDTV) January 16, 2018
Tickets kosam abhimanule kaadu, abhimanula kosam heroes kuda okkosaari gate dukalsinde... #suriya #Gang pic.twitter.com/ZZMKdFfU4c

— Ganesh Ravuri (@ganeshravuri) January 16, 2018
Addressing the media at Vijayawada, Suriya thanked everyone for the success of Gang. He said, "I'm not with my family on the Pongal festival for the first time, but Telugu brothers' love and affection made me feel so special. Thank you all for your warm reception to Gang. I also thank UV Creations owners Vamsi and Bunny Vas and all the theater owners for their support for our release."
Here are some of the photos and videos showing Suriya's interaction with his fans in the above-mentioned locations.